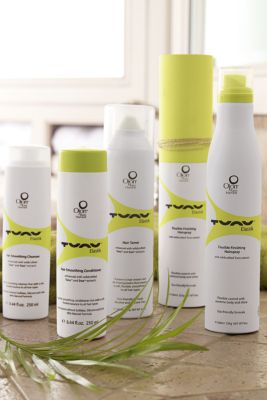 Summer, hair and humidity just don't mix!  High temperatures and summer sun can leave your locks dry and frazzled, but don't despair! We've got the scoop on fighting frizz.
What causes frizz:
Natural curls: Curly hair does not rest on the head, but lifts away from the scalp and does not soak up its natural oil; thus curly hair tends to be drier and more prone to frizz. Coat hair with a dab of silicone gel to help smooth or try curl-enhancing mousse which helps bind hairs to each other while defining curls, keeping the curl in and the frizz out.
Heat appliances: We all know that blow dryers, straighteners and curling irons dry our hair out, but they also damage hair. When the cuticle gets damaged, it tends to fray more easily, which is what causes that unruly, frizzy appearance. Opt for air drying or using a diffuser.
Cut and style: Excessive brushing can also cause split ends and breakage, both of which contribute to frizz. Using a wide-toothed plastic comb and detangling spray can help keep tangles at bay. Also, don't forget to get regular trims to help curb frizz-prone split ends.
Overwashing: Too much lather removes natural oils from the scalp and leads to dryness. When you do wash, don't forget to rinse with cold water to lock in moisture and help seal the cuticle.
The environment: The heat and humidity this time of year strip the moisture out of your hair, leaving it dry and prone to frizz. Stay frizz free with:
Moisturizing shampoo: Designed to cleanse and rehydrate hair while sealing in moisture, these double-duty cleansers don't strip natural oils necessary to keep hair resilient (which combats breakage) and hydrated. We like Neil George Intense Illuminating Shampoo; it's rich in the anti oxidant Indian Gooseberry and packed with Vitamin C to smooth rough cuticles and tame frizz for amazingly soft, silky hair.
Cream conditioner: Good for repairing damaged cuticles, cream conditioners nourish and improve elasticity for healthy, moisturized hair. Try Ojon Tunu Elastik Hair Smoothing Conditioner, which contains the natural Latex-rich bark of the Tunu tree that locks out humidity, seals in cuticles and adds bounce and elasticity to prevent breakage and give you beautifully smooth and shiny hair.
Hair mask or deep conditioner: Use once or twice a week to moisturize, smooth and protect your hair. We go for Oscar Blandi Jasmine Smoothing Hair Treatment. Made with Lavender, Grapeseed Oil and Geranium, this repairing treatment nourishes and hydrates every strand from root to tip.
Heat styling products & anti-frizz creams and gels with Silicone: These products are specially designed to fight frizz, but use sparingly! A little goes a long way.