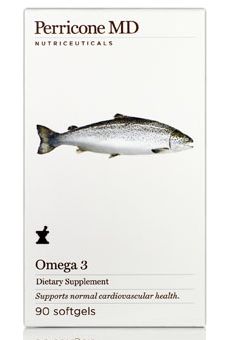 One of the newest trends in skin care is incorporating nutraceuticals into our daily regimens. The term "nutraceutical" combines the word "nutrition" and "pharmaceutical," and is used to describe food (and more recently supplements) that provide both health and medicinal benefits.
Nutraceuticals can be ingested to provide a wealth of benefits including boosting firmness, increasing smoothness and enhancing slimming, making them a high-powered commodity in the beauty market.
One of the first to incorporate the power of nutraceuticals was Dr. Nicholas Perricone, who now not only offers cutting edge skin care products but also offers a wide range of supplements to further enhance great skin, healthy immune systems and even weight loss. We like Perricone MD's Omega 3, a powerful anti-inflammatory that elevates mood, regulates weight loss and supports cardiovascular health, along with antioxidants like Alpha Lipoic Acid and Perricone Super Antioxidant which combat signs of aging while maintaining a healthy immune system.
Feed your Face!
Cleansers and face wash and masks, oh my! Beauty products aren't the only way to keep your complexion looking young and healthy. The answer could be as close as your refrigerator! Get gorgeous skin from within by incorporating these miracle nutraceutical foods into your diet.
Green Tea
It's the main ingredient in several beauty products for a reason. Green Tea has anti-inflammatory properties and protects the cell membrane. It reduces the risk of damage from ultraviolet light, thus reducing the risk of skin cancer.
Antioxidants
Increase your ability to absorb free radicals that damage the membrane of skin cells.
Power up: Cantaloupe, Tomatoes, Berries (Strawberries, Blueberries, Blackberries) and Plums.
Vitamin A
Improves cell turnover and renews skin quickly.
Veg-out: Broccoli, Spinach, Carrots, Low-Fat Dairy
Vitamin C
Reduces wrinkles by maintaining collagen.
Fruit-tastic: Grapefruit, Oranges, Kiwi, Mango
Omega 3 Fatty Acid
This is a "good fat" and is also an anti-inflammatory. It helps your skin cells repair themselves and increases cell production.
Go Fish: Tuna, Shellfish, Sardines and Salmon, Flax Seeds, Walnuts
Selenium
Improves skin at the cellular level.
Carb-bonanza: Whole Wheat Cereals, Breads and Baked Goods.