Peptide Infused Innovations for the Remedy & Protection of Damaged Nails
By Amos Lavian
Founder/President
Dermelect Cosmeceuticals
When it comes to revealing, or concealing, your true age, the hands are huge indicators. We go to great lengths to prevent the signs of aging on our faces and necks, but it's the hands that end up being abused and neglected, the most. Think about what your hands are put through on a daily basis. Constantly immersed in water and exposed to nature's elements, is it any wonder why your nails are peeling and chipping while the texture and look of your hands feel like cardboard?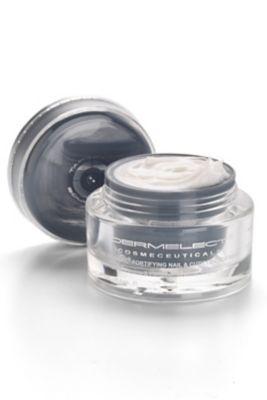 Reversing The Damage. Traditional nail care companies approach nail treatments with an old fashion, protein/moisture concept- apply a protein rich ingredient in the treatment and moisturize often usually with glycerine being the main ingredient. Always in search of new technologies to address the age-old question of visual aging, Dermelect's focus for nails is on Keratin- the essential protein found in fingernails, skin and also hair. Keratin diminishes as we age and expose our nails to everyday wear and tear. Dermelect is leading a new frontier in nail care by being the first U.S. company to introduce the use of peptides in it's anti-aging nail and hand treatments. We all know the results that peptide infused facial treatments provide, not to mention keratin treatments for the hair. Well now that same principal has been expertly formulated to restore beauty and strength to restore natural nails.  Whether you're trying to treat damaged nails or maintain beautiful, natural, long nails, Dermelect's treatments are the most advanced formulas available.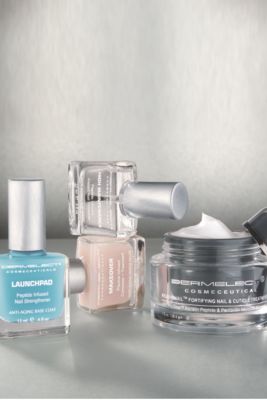 How Does It Work? While scouring through a medical journal, I came upon a treatment that was using extracted keratin from sheep's wool for a myriad of non-cosmetic applications including bone grafts, fixation devices, wound dressings, adhesives, and surgical fibers. Keratin is very difficult to extract from wool without damaging the amino acids that make up the protein. Most processes mangle the amino acids, meaning that the potency suffers. This peptide ingredient was being extracted from the wool in a gentle yet powerful process keeping the protein intact and therefore maintaining its potency. The integrity of the extracted peptide (keratin protein) is in a near-perfect state. I reached out to the New Zealand manufacturer and asked if they thought that it would work as well in restoring damaged fingernails. My contact went back to their chemists and returned a response indicating that the cystine content found in bones is similar to that found in fingernails. They couldn't see a reason why it wouldn't work! Tremendous news!
We imported the ingredient and set off to work. Formulating, testing and re-formulating and re-testing! Finally- perfect! The New Zealand wool protein-peptide biotechnology became the key ingredient for Dermelect's nail treatments. The press reported about this breakthrough- The New York Times, Women's Wear Daily, San Francisco Chronicle, etc.- calling it a top "Beauty Find'!  More importantly, the consumer testimonials have been amazing. Women that were never able to grow their nails were doing so now. Acrylic damaged nails were transformed to naturally beautiful. Unprecedented results were reported for those who had chipping, brittle, splitting nails. It's as close as you can get to restoring your nails to beautiful!
All Dermelect nail & hand treatments are:
dbp, formaldehyde & toluene FREE
Cruelty FREE – No Animal Testing, Ever!
Hydroquinone FREE
Paraben FREE