Though everyone aspires to complexion perfection, the occasional line or wrinkle is inevitable. We're here to help smooth things over with the scoop on fighting the appearance of unwanted laugh lines and frown wrinkles.
The underlying cause of lines and wrinkles is a loss in the elasticity of the skin's collagen layer. As we age, our skin cells divide more slowly and the inner layer begins to thin. The matrix of fibers that support the outer layer loosen and unravel, causing sagging and depressions on the surface.
A word of warning: Smoking and exposure to UV light accelerate the normal aging process of your skin and inhibits collagen production, breaking down your skin's connective tissue, collagen and elastin fibers. Without these, the skin loses strength and flexibility and begins to sag and wrinkle prematurely. So the best way to avoid signs of aging is to be diligent about sunscreen and ditch the cigarettes.
Saving Face
Other lifestyle changes include:
Getting adequate sleep. Rest produces more of the human growth hormone that helps skin stay thick and elastic.
Adjust your diet. Eating more fish (protein, omega-3 fatty acids), fruits and vegetables (antioxidants) and cocoa (flavanols) will nourish your skin and keep it looking smooth and youthful for longer.
Don't forget the shades! Sunglasses will keep you from squinting in the sun, which can lead to crow's feet around the eyes. Also, ensure your vision prescription is up to date—if it's not, this could lead to squinting as well.
Night time is the right time for any anti-aging creams, gels or cleansers. There's a reason it's called "beauty sleep"—when we're asleep, cell regeneration and repair kicks into overdrive, ensuring we get the most benefit from anti-aging products.
For a quick fix:
Avoid shimmering or frosted eyeshadows since they can emphasize lines and wrinkles. Try lighter matte shades to create a bright, youthful eye.
Opt for a lip gloss that will plump the lips over a matte lipstick that will draw attention to fine lines around the mouth. Outlining lips with a neutral hued lip liner can also help diffuse the appearance of lines.
Be modest with concealer and foundation; heavy makeup can seep into wrinkles and make them look deeper. To keep makeup from settling into lines, make sure skin is moisturized first and prep skin with a primer to create a barrier between the foundation and lines.
A quick trip to the dermatologist's office can help smooth those wrinkles as well. Botox® injections— which temporarily paralyze muscle movements that cause expression lines, allowing the skin to stay nice and taut—can smooth fine lines for months at a time. Injectable fillers like Restylane®, Collagen, Captique™, Juvéderm® or Radiesse™ can also be used to plump up lines from the outside.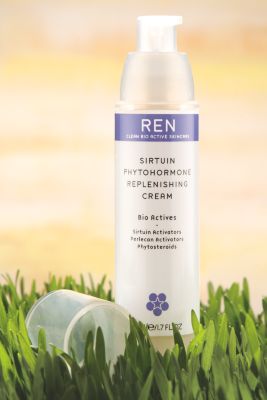 Think outside the Botox:
Plant stem cells are the latest and greatest trend in the quest for smoother skin. Like human stem cells, plant stem cells have the capability to regenerate brand new cells, except they are actually more adept at replenishing skin cells since they can divide more often than the human variety, meaning longer term benefits. Apple stem cells are most commonly found in skin care products at this time, but others have also been shown to accelerate skin cell renewal, diminish lines and wrinkles, boost skin's protection barrier, restore elasticity and rebalance moisture. 
LED therapy is a non-invasive procedure that uses red and infrared light to penetrate the skin, which stimulates collagen production and new cell regeneration, reversing the appearance of lines and wrinkles. While dermatologists have access to the most powerful LED devices, there are many at-home versions now available as well.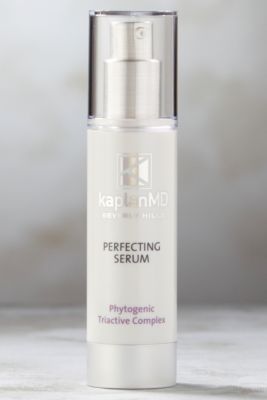 Products we like:
Ren Sirtuin Phytohormone Replenishing Cream is a firming formula that hydrates and moisturizes to balance skin during hormonal changes. It's fortified with bioactives and Wild Yam Phytohormones to combat dry, sagging skin and boost cell rejuvenation.
Also, Kaplan MD Perfecting Serum, which is a rich, concentrated formula with Hyaluronic Acid and patented peptides that decrease fine lines and wrinkles while maintaining collagen levels to leave skin silky smooth.