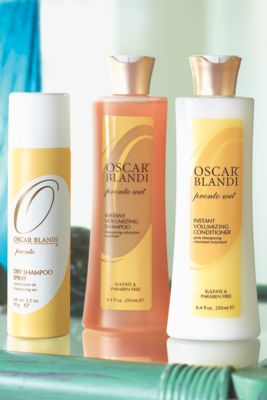 A woman's hair is her crowning glory, be it straight or curly, long or short. We can flip it, style it or even cut it off. But no matter what your "do", the best looking locks have bounce, volume and shine, shine, shine.
Here's the deal: When the outer layer of hair (the cuticle) lies flat, the even surface can reflect light and appear lustrous. Getting your cuticles to behave consists of several do's and don'ts. Here's the scoop on getting a shiny, glossy, commercial-caliber coif.
Hot  vs. Cold
Never rinse your hair with hot water; this opens the cuticles and causes dryness and frizz. Cold water closes the cuticle and seals in moisture. Same goes for hot and cold air; utilize that cold shot button on your dryer if you have one.
Rub vs. Blot
Vigorously rubbing your hair with a towel makes cuticles stand up; try blotting to remove excess water.
Daily Shampoo vs. Day of Rest
Shampooing every day dries your hair and strips it of natural oils. To keep hair looking fresh between washes, try Oscar Blandi Every Other Day Kit, which includes a shampoo and conditioner that both clarify and volumize, along with the renowned Dry Shampoo Spray to absorb oil and refresh on your day off.
Brush vs. Comb
DON'T brush your hair when it's wet; it will easily break causing frizz and split ends. Opt for a wide tooth comb to detangle your mane.
The Right Products vs. Anything Else
A leave in conditioner can do wonders for dry, lifeless hair. We like Hair Rules Nourishment Leave In Conditioner. This nourishing formula infused with oil and Honey protects against heat-styling damage and transforms dull, lackluster hair into luscious, hydrated strands of shiny hair.
Choose a smoothing shampoo that locks in moisture and natural oils like Oscar Blandi Jasmine Smoothing Shampoo. This product contains Vitamin E to help tame frizz while strengthening and protecting hair, leaving it smooth and manageable.
The final step to the perfect style is a lightweight finishing spray like Ojon Shine and Protect Glossing Mist. This product is formulated without alcohol and water and infused with Broccoli Seed Oil, Algae Extract and nourishing Ojon Oil that leaves your hair shiny, lusciously soft, and silky smooth.