While most lipsticks look lovely in the tube, they don't all translate well on the lips. What looks good on a fair-skinned blonde may not work for a dark-skinned brunette. While scanning the rows and rows of lipsticks, you could be passing by the right color without even knowing it. We're here to provide a method to the madness; here's the scoop on finding the right lipstick shade to complement your skintone.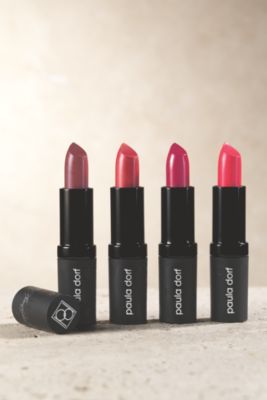 Always keep in mind:
The most flattering lip shades will be one or two shades darker than your natural lip color.
Keep your look fresh by choosing lighter colors during the day and darker colors at night.
When possible, try a lipstick before you buy it! What looks good in the tube (or even scary in the tube!) may look completely different on your lips due to the sheerness or intensity of the pigment—a deep, dark, almost-black shade in the tube may be the perfect sheer berry you've been searching for.
The Right Lipstick for Fair Skin:
Stick to: Light browns, light coral and beige colors with a pink undertone or for more drama, deep plum reds, berries or wine reds with a blue undertone.
Steer clear of: Bright pinks, dark bronzes and dark mochas, as they will wash you out.
Can't go wrong with: Light brown and pinkish beige to brighten a pale complexion.
The Right Lipstick for Medium Skin:
Stick to: Deep pinks and reds, rose and mauve, rich caramel shades and medium and coffee colored browns look great on medium skintones.
Steer clear of: All medium skintones should avoid nudes—they're too close to your natural skin color and have a tendency to leave you looking washed out.
Can't go wrong with: Plum or raspberry or anything with the word "rose" in the name

The Right Lipstick for Olive/yellow Skin:
Stick to: Rich, deep browns, reds and dark berry shades. Pinks like rich rose, and soft to medium plums with strong yellow undertones also work well with this skintone.
Steer clear of: Orange and pinkish reds, as well as light pinks which can drain an olive complexion.
Can't go wrong with: Light brown or dark berry for a gorgeous glow.

The Right Lipstick for Dark Skin:
Stick to: Mahogany, deep plums, wine reds and almost any shade of brown. Berries and deep roses also flatter dark skin.
Steer clear of: Anything orange or pinkish red. It brings out yellow undertones and makes dark skin look drab.
Can't go wrong with: Deep plum and dark red with a hint of blue.
Lip Trick:
Don't throw away lipsticks that don't flatter! Try layering them with colored gloss or other shades or lipstick to create a look you'll love.