Treat that picky mother-in-law, favorite niece or special sister with a perfect gift for anyone on your "nice" list.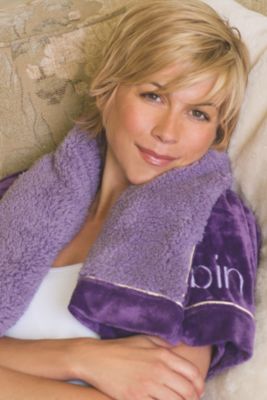 Spa Blanket
Wrap yourself in luxury this holiday season with our silky soft spa blanket. It's double sided with warm and fuzzy Sherpa on one side and velvety velour on the other and offers the aromatic healing powers of Luscious Lavender and Peppermint.
Cashmere Socks
Curl up with these comfy cashmere socks, specially softened and plaited with nylon for stretch, making them unbelievably soft and unforgettably comfortable.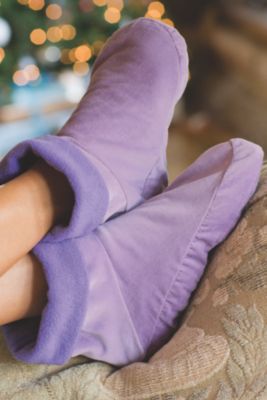 Foot Cozys
Indulge your feet with a soothing, aromatic treat inside these lush booties complete with energizing Cinnamon, Clove and Eucalyptus inserts for a deliciously scented stress relief and circulation boost. Heat inserts in the microwave for a toasty treat to relieve aches and pains.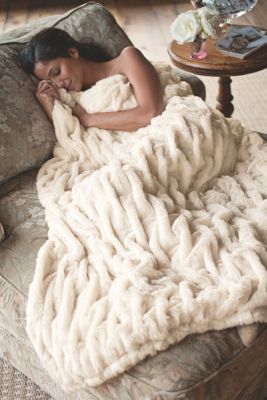 Paris Faux Fur Throw
Snuggle up with warm decadence. This reversible Faux Fur Throw has beautiful artisan stitching and a luxurious plush texture, making it the perfect winter accessory for the home.
Aya Blu Perfume Set
Become intoxicated with the exquisite scent of Aya Blue. Crafted by a world-renowned perfumer, this lavish perfume infuses top notes of Purple Orchid and Persian Lime with spicy wild Ginger and finishes with warm Amber and Musk undertones.
Fango Active Mud Mask for Face and Body
Create a spa treatment in the comfort of your own home! Nourish your skin with this mineral-rich triple action formula infused with Avocado and Sweet Almond Oil. This therapeutic mud mask for face and body contains the revitalizing Acqua di Vita complex to firm, cleanse and exfoliate skin from head to toe, leaving you feeling refreshed, youthful and revitalized.  (A $151 value)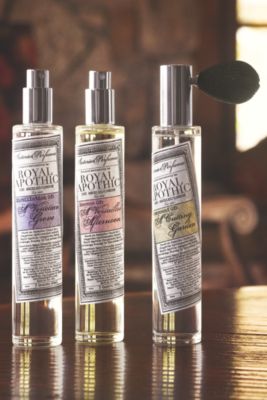 Interior Perfume
Immerse your home in the deliciously rich fragrances of the Royal Apothic. Each unique and complex scent will lightly fill a room and enchant the senses without overpowering, imparting a distinct mood enhancement for any occasion.
Venetian Grove: A heady concoction of Orange Blossom, vines of Sweet Currant and ripe citrus fruit.
Versailles Afternoon: A beautiful blend of Tuberose and Carnation, laced with the nectar of ripe Tangerine and Orange Blossom.
A Cutting Garden: An unforgettable white floral that fuses Gardenia, Star Jasmine and Tuberose with hints of Lily and Iris.
Eye Intensifier Pencil Trio
The perfect smoky eye is within reach! This eye pencil trio is formulated to slide on smooth for a velvety finish that locks in moisture, preventing a chalky or cakey feel. Each piece comes with a versatile smudger; the Pointe-Noire pencil sets the base while the Zaire adds rich depth to the lid and the Epernay illuminates with subtle shimmer for a gorgeous, professional-looking finish.
Twilight Kit
Sleep is essential to a healthy, happy lifestyle. Create a restful sanctuary with all the essentials for a blissful slumber with this luxurious collection. The twilight kit is beautifully stowed in a linen case and includes:
A silky eye pillow containing French Lavender and Flaxseed
A CD of soothing classical piano
A silk organza and cotton pillow insert filled with French Lavender for deep relaxation
DuWop I Gels
Achieve triple benefits with these soothing I Gels designed to erase puffiness, reduce dark circles and relax fine lines while imparting a refreshing, relaxing feel. I Gels conform to the eye and release natural, botanical extracts, indulging your eyes again and again with each reusable set (up to 4 times).