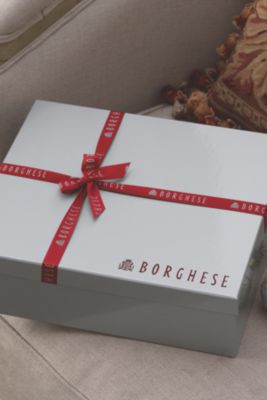 Often times, we find ourselves to be casualties of a stressful day and let's face it – a stressful life in general. At the end of a long day, wouldn't it be nice to lose yourself in a Tranquil Dream? Leave it to Borghese to help you find your refuge. Borghese has put together the "best of the best" in their latest spa kit, named none-other than "Tranquil Dreams". But – before we take you through all of the products you dream of…let's create the perfect environment in the one place you feel most relaxed – at home.
Purchase flowers for yourself on the way home because you deserve it – and remember you don't need to spend a lot of money. The scent and color of natural flowers will help you create the spa ambiance in your bathroom. Make sure to lower the lights and surround your tub with candles. Don't worry if you don't have a lot of room – even one candle on the sink or somewhere close by will create the perfect soft lighting to help you relax. Not only does the right lighting affect your senses, but some soft music will help as well. Choose what you love, whether it be classical or soulful.
Stay hydrated – before immersing yourself into the tub or massaging shower, make sure you have a cool beverage nearby – whether it be water or a soothing tea. Enjoy, during or after you bathe. Remember to use a plastic glass or mug….no glass near the tub! Along with a bath pillow (if you're taking a bath), make sure to have a long-handled natural bristle bath brush, loofah or washcloth nearby.
Now you're ready to immerse yourself in the relaxing, aromatherapeutic scents of essential oils that are signature to Borghese products.
Tranquil Dreams is a spectacular eight piece set that gives you just what you need to feel LESS stress and MORE fabulous.  Start with Fango Active Mud for Face and Body to rejuvenate. Use a spatula to apply a generous layer to face and body (avoiding eyes and mouth area). While you relax for 10 minutes with the Fango, apply Botanico Eye Compresses to the eye area. Next rinse with Bagno di Vita Gentle Foaming Gel for Bath and Shower and gently awaken your senses.
If you're in the mood for some exfoliation, we suggest you try Sali Esfoliante Salt Scrub to purify the skin. Massage on arms and legs using small circular movements – be sure to concentrate on rough areas such as elbows, knees and feet. Again, we suggest rinsing with Bagno di Vita Gentle Foaming Gel.
Whether you decide to Fango or exfoliate with Sali Esfoliante, the last step is most important – HYDRATION. Apply 2 pumps of CuraForte Moisture Intensifier to fingertips and gently massage around eye area, face and neck in preparation for optimal moisturization.  Then apply Cura di Vita Protettivo Protective Moisturizer SPF 15 to protect and restore. Apply to the face, massaging it in, working upwards from neck to the temples. Do not put on eyes as it has SPF – CuraForte is taking care of your eyes. Finish the experience with Tono Body Creme, to give skin the moisture it needs for healthy glowing skin. It's a total spa experience, packed in a signature gift box, leaving you tranquil and your skin dreamy.  The Tranquil Dreams Kit is a $167.00 value, priced at $49.00.