Whether you're after a subtle or dramatic look this holiday season your lashes and lips will be the defining factors. So if you want your lashes to stand out and your lips to do the talking, follow these tips before going out to a holiday soirée.
It's all about lashes, and applying mascara can be tricky at times so I suggest once you take the wand out, before application, dab the end of the brush onto a tissue to take off any clumps. Then when applying mascara, it's very important to start at the base of the lashes bringing the brush all the way to the tips.  You won't believe your eyes, literally, after you apply 2 – 3 coats of Lash Intensifier Treatment & Lengthening Mascara. And always remember to curl lashes — it's key to lashes that stand up to any condition!
For long lasting lip color, here's what I recommend. Choose a matte lipstick, and apply one coat. Using a brush to apply lipstick gives a bit more definition. Then use a Lip Intensifier Pencil to "buff" the color into lips, which means to apply the pencil with light feathering strokes around the lip line, blending towards the center. Buffing the liner in really helps encase the lips and lipstick color. Finally apply a second coat of lipstick evenly all over lips. This approach works well for long lasting color.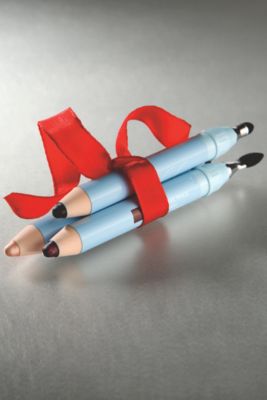 Sue's Secret Tip: The smoky eye is the perfect accent for the holiday party season, and to achieve this effortless look I suggest applying a complimentary shade of Eye Intensifier Pencil generously along the base of the eyelid and into the lash line, using the pencil directly on the eyelid. Then, using a lash line brush, work the color slightly upwards into the eyelid to create the smoky effect. For that extra-dramatic look, line the eyelid again and also apply inside rim of the upper and lower lashes.