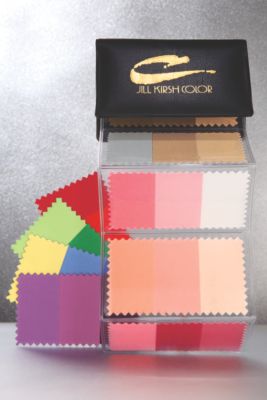 No matter how expensive the dress or luxurious the makeup, if the shade is wrong, it just doesn't work. This is the principle around which well-known color consultant Jill Kirsh, dubbed "Hollywood's Guru of Hue," developed her Swatch Book, a unique color palette of fabrics designed as the perfect tool to enhance your natural beauty.
Jill believes that based on hair color alone, the right shade can make or break your look. No time for makeup? Throw on a t-shirt in the right shade and you'll shine. Amplify that look with an eyeshadow or blush that compliments your do and you'll be a knockout.
Here's a preview on how to choose the best makeup and outfits to match your hair color.

Ash Blonde, Platinum and Gray
The Makeup
Eyes: soften your look with shades of gray shadow and a brown liner and mascara.
Lips: go for a beautiful rose-colored gloss.
Cheeks: a rosy pink blush looks best.
The Outfit
Choose pastels like baby blue or lavender and shed the orange and tan.

Warm Blondes
The Makeup
Eyes: sparkle with shadows in warm neutrals and soft greens to offset yellow strands.
Lips: emphasize lips with a stain in spice or golden brown.
Cheeks: Show off your cheeks with a peachy pink or coral blush.
What to avoid: matte nudes and blacks.
The Outfit
Opt for turquoise, lemon yellow and deep purple, stay away from dusty pastels.
Deep Brunettes
The Makeup
Eyes: choose a deep purple eyeshadow with a smudge of black liner to make brunette eyes pop.
Lips: bring out the pout with ruby or raspberry stain.
Cheeks: play up the cheeks with shades of pink and berry.
What to avoid: pale foundation, muted neutrals.
The Outfit
Royal blue, fuchsia and emerald green work for you. Pass on mustard, dusty blue or orange-based reds.

Golden Browns and Redheads
The Makeup
Eyes: Dazzle with a blend of champagne, mocha and green.
Lips: Shimmery neutrals will make your smile shine.
Cheeks: give a healthy glow with a dusting of bronzer
What to avoid: blues and blacks
The Outfit
Opt for eggplant, teal and orangey-red. Leave behind the pastels and blue undertones.