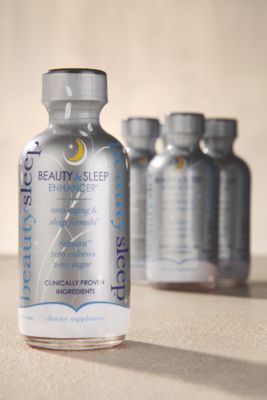 During the day, our skin takes a beating. It is constantly protecting us from contaminants like makeup, sweat and other environmental factors.  When we sleep, our bodies and minds recharge and the stress and damage that your skin experiences during the day gets to be repaired. Sleep is the most natural way to detoxify and replenish your skin…but we don't always sleep like babies.
For those who need a little help catching those precious Z's, we recommend BeautySleep™. BeautySleep is designed to help you fall asleep quicker and sleep more soundly, resulting in a more productive, active lifestyle.
This anti-aging dietary supplement combines natural sleep enhancers with rich antioxidants that protect cells and keep your skin looking young and fresh. This great-tasting 2 oz. ounce drink contains:
Melatonin-to help regulate sleep patterns
GABA-to alleviate stress and calm the brain
Lutein -to improve skin hydration and elasticity
Other active ingredients promote a better night's sleep and a more rested, healthy appearance.
And remember these top 5 tips for a soothing slumber:
Keep a regular schedule-going to bed at the same time every night will help keep your body in sync and provide a stable, healthy sleep routine.
Establish relaxing bedtime habits – such as keeping your room cool and dark, avoiding distractions like television and taking a warm bath beforehand.
Avoid stimulants-stay away from caffeine, alcohol and nicotine before bedtime.
Exercise-regular exercise will improve your quality of sleep and also help you fall asleep faster.
Moisturize at night-this will help restore essential hydration and promote cell turnover.