Bronzers are a fast, simple way to get the sun-kissed look of a tan without the UV exposure or messy self-tanning creams. A good bronzer not only gives your skin an instant pick-me-up, but it can also help even skintone, hide blemishes or imperfections like spider veins and give a contoured, lifted look to the face or body. Some even contain antioxidants or SPF for added skin protection, making them a much healthier alternative to an actual tan. Here's the scoop on the most common types of bronzers and the tips to achieving a natural, gorgeously bronzed glow.
Types of Bronzer
1. Bronzing Powder – The most common type of bronzer, powder formulas are best for oily to normal skin. Loose powder gives a more matte look and lets you better control the coverage, while pressed powder can appear dewy and is less messy to apply. We recommend Paula Dorf Pressed Powder Bronzer, which is made from finely milled powder to impart a luminous glow without streaking.
2. Bronzing Cream – Optimal for those with dry skin, this type of bronzer won't settle into fine lines. Most cream bronzers offer a more shimmery finish, and they often come in portable tubes or stick containers, making them great for on-the-go.
3. Liquid, Spray and Gel Bronzers – Similar to self-tanners (but they typically contain less DHA), these bronzers are best used for larger areas of the body like the legs, arms or chest, and they last longer than cream or powder formulas (usually until you shower them off). But because of their longevity, they take more skill to apply—they can look streaky if applied incorrectly.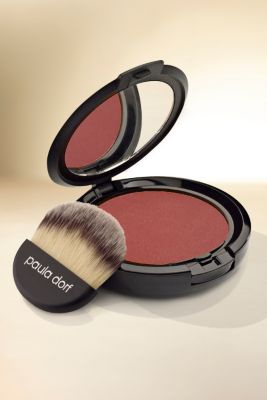 Perfecting
the "sun-kissed glow"
1. Choose a large, fluffy powder or blush brush if using a powder formula. If you use a smaller brush, you could end up with streaks or lines instead of softly diffused color. Use a makeup sponge or your fingertips for applying gel, liquid or cream formulas.
2. Swirl the brush in the bronzer and tap off the excess.
3. Using light, gentle strokes, apply to the top of the cheekbones where your face is naturally contoured. The trick is to apply it where the sun would naturally "kiss" your skin. Avoid the under-eye area, which should stay bright.
4. Blend up the temple and into the hairline and the forehead and then down the jaw line (follow this path, creating strokes like you're making the number 3 on your face). You can also apply it to the hollow above your eye for a hint of color without eye shadow.
5. Brush once over the tip of your nose and a little bit on the chin. Blend where needed with your fingers or a clean makeup sponge.
6. To finish, swirl a bit of pinky blush on just the apples of the cheek to give skin dimension and brightness—otherwise, bronzer can end up looking dull or muddied.
Keep in mind:
• If you have fair to medium toned skin, choose a bronzer one shade darker than your natural color. If you have dark skin, you can get away with two shades darker.
• For a more natural look, choose bronzer without shimmer in it. Matter versions are more realistic looking than glimmering ones.
• Always apply bronzer with a light tough—it's much easier to add color than take it away.
• If you apply too much, just tone down the color with a dusting of translucent powder.
• Do NOT blow on your brush to remove loose bronzer; you may get moisture on the brush, causing the bronzer to streak.
• Don't forget to apply to your neck! Avoiding this area can create an unappealing "mask-like" look.