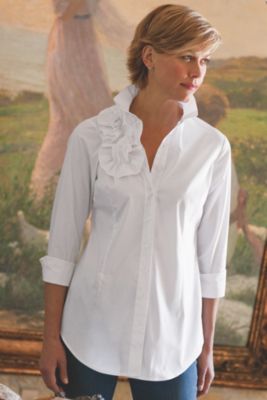 Mother frequently knows best but in this case, it is time to update Mother!  The rule about no white after Labor Day originated many moons ago, primarily among wealthy families. Somehow this 'rule' worked its way into larger society and has since been embraced as fashion gospel. Phooey. Fashionistas everywhere declare this rule is for the birds, and that white after Labor Day is perfectly acceptable, and even beautiful, IF some key guidelines are followed. Essentially it can be summed up as the following: It's all about the fabric, dear. Retire those summer fabrics, and you are good to go in just about any color in cool-weather fabrics.
White after Labor Day is just fine, IF:
1)      It is seasonally appropriate, in other words, the right fabric and coverage. Bring out the pretty white pea coats, the white sweaters and cardigans, and the white wool dresses, fashionably paired with a dark scarf and knee-high boots.
2)      You do not douse yourself in white from head to toe. White can be tastefully intermixed with traditional cooler-weather colors for a flattering look. So, if you are wearing a white blouse, nix the white pants and go with brown, gray or black pants, leggings or trousers.
3)      White shoes and white sandals are put in the back of the closet. Why, you ask? Simply because the white shoes will detract from the rest of your gorgeous outfit and bring attention to your feet, which may not be a good thing in the colder months. The summer tan may be fading, plus no one wants to show a worn pedicure. In the summer, white shoes can be stunning, but best to let them take a hiatus come fall.
4)      You accessorize tastefully with white, whether it is white scarves, white beaded necklaces or jewelry, or a white hairclip.
If you are still shy about white in the winter, go for different shades of white, a la cream and ivory shades. If Mom asks, tell her it is "winter white."  After all, isn't snow white?
PS – Perhaps you've also heard "no sandals after Labor Day?"  Time to chuck that rule too. Dark-colored sandals are fine, as long as your feet are in good condition (see #3 above). Go ahead and wear a gorgeous shimmery sandal with confidence to that neighborhood holiday party and dance the night away!
We would love to hear your thoughts on wearing white after Labor Day – please feel free to post a comment!