Autumn is a beautiful time of year for a wedding, with many people still opting for outdoor nuptials in the fall.  One dilemma for guests is what to wear to a fall wedding when the temperature outside can vary so widely from day to day – one day the remnants of summer are felt, and the next there is a distinct chill is in the air. "I have been to more than a few fall weddings where I was dressed quite comfortably during the daytime outdoor ceremony, but come nightfall I found I was very much under-dressed for the outdoor reception," says one person on our staff. Sound familiar?  An outdoor reception is meant for mingling, not being stuck by the outdoor fireplace to keep warm.
So, without further ado, here are some tips for great fall wedding attire. The key thing to remember is to bring something to cover your shoulders, so that you can go from warm to cool temperatures quite comfortably.
1.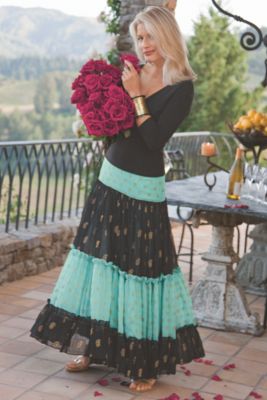 Long, sweeping skirts never go out of style. At any semi-formal event, whether in the daytime or evening, it is hard to go wrong with a flowing, ankle-length skirt. While this would not necessarily work for a black-tie or formal daytime wedding, it is perfect attire for an outdoor autumn ceremony.
Our Moroccan Nights Skirt is wedding-dressy with its multi-tiered design and glistening paisleys, yet the delightfully comfortable chiffon makes it perfect for an outdoor soiree. Wear the skirt with a long-sleeve Ballerina Tee if the temperature is cool, or a sleeveless top topped off with a fashionable shrug.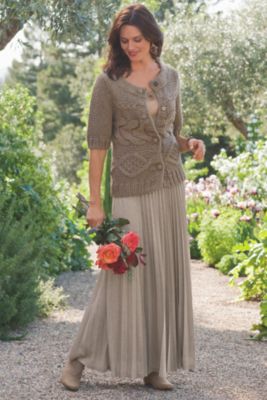 2. Almost any color works as long as it's not all white. Of course with it being fall, it is tempting to go with autumn colors like pumpkin, chocolate or vermillion. This can be quite lovely as long as it does not go too far and turn into a Halloween-ish or cornucopia look.  It's best to err on the side of subtleness and go with a dash of fall color or one single fall color throughout.
A great example of how to beautifully pull off a single-color fall look is our oatmeal-color Paige Pleated Skirt coupled with the short-sleeve taupe Tangiers Top. The top's copper metallic embroidery at the neckline really dresses it up for a wedding event. For the cooler evening, add warmth with our toast Cabled Cardigan. Pop on more sparkle with dangly gold-tone earrings.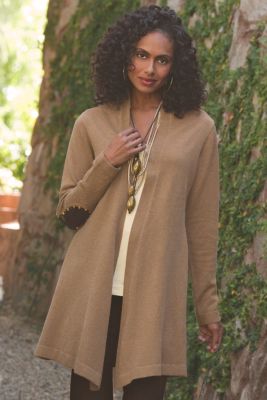 3. A cardigan, topper or shrug is a must. Plan your outfit with this additional piece in mind, so that it looks natural when you need to pull it over your shoulders later. You definitely do not want it to appear as an after-thought that takes away from the beauty of your overall look.
Toppers are typically longer in length and lighter-weight, whereas shrugs and cardigans are shorter and usually warmer. A topper can be shortened by tying the ends together at the side or in front.
Soft Surroundings wishes you a season full of the delights of autumn and lasting memories that keep you warm.