Cozy Sweaters, Stylish Boots, Beautiful Jackets. . and a chic Fedora to top them off!
The weather forecast is clear – for many of us, colder temperatures are headed our way. It has been so wonderful to linger in the comfortable days of fall. But fear not, we promise that this relaxation can carry over to the chillier months of the season – if you are dressed for it!  Soft Surroundings' gives you the perfect solutions for frigid forecasts that will keep you warm AND stylish.
Trend: Chunky sweaters with cowl-neck and shawl collars.
It's quite a neat trick how simply adjusting the collar of a sweater can give it a whole new look. Drape these sweaters over a never-out-of-style turtleneck, and you'll be ready for any cool blast.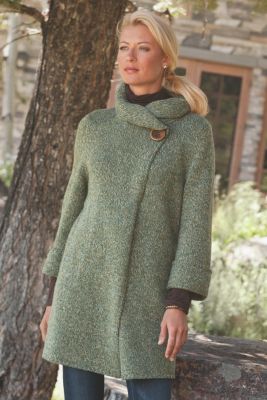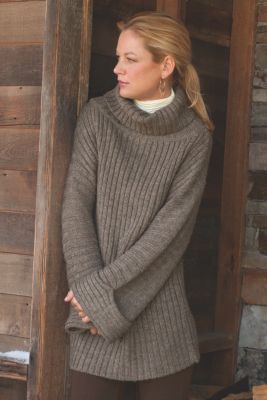 Shop all Soft Surroundings' sweaters for women.
Shop all varieties of Soft Surroundings' Great Shape Turtleneck, available in seven luscious colors.
Trend: Double-breasted jackets that add a beautiful twist to the classic trench coat with feminine details like cinched waistlines or belts.
Our Left Bank Jacket is striking in Dolci Red, a classic double-breasted design, and gleaming antique brass dome buttons. A detachable belt gives the option to cinch in the waist.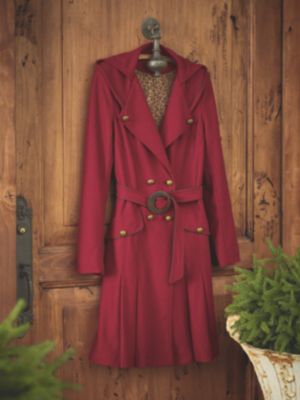 The Antoinette Jacket is reminiscent of the past but completely fashion-forward, crafted in a uniquely textured balance of rich chenille and shimmering brocade. This fully-lined jacket features button-down collar and lapels, double-breasted styling and a flattering waist seam.
Trend: Oversized Collars, and Colors Beyond Black and Brown
We have nothing against a classic black or brown coat, but take a look at our Greenwich Coat and you will see how a different color can bring a whole new look. The yellowish-wheat hue of the Greenwich Coat adds to its beauty, along with the distinct and very functional oversized wing collar, that can fold up to protect your neck from the cold or lay down and expose a gorgeous scarf. Fully lined and made with wool – a warm delight.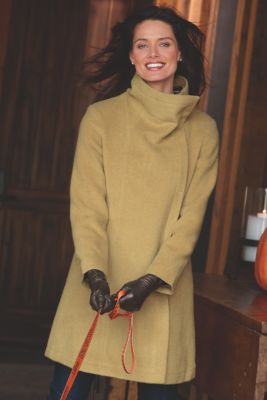 Shop all Soft Surroundings' women's jackets and coats. 
Trend: Boots!  Riding Boots, Lace-Up Boots, Harness Boot, Slouchy Boots, Stacked Heel, and Ankle-Boots.
Boots might as well be called a 'permanent' winter trend. . how can anyone go wrong with a gorgeous pair of boots, and can anyone have too many? The answer to both questions is "you can't!"  Soft Surroundings' has your boot needs covered with many of the on-trend styles. We are sure you will find at least one you like!
One of our riding boots. . .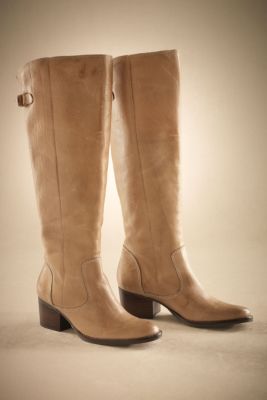 A very cool harness boot combined with a stacked heel . . . .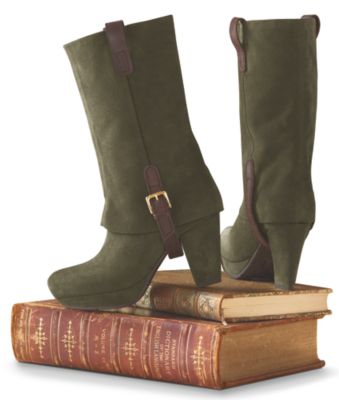 Perfect weekend harness boot. . .
The back-in-vogue Lace Up boot. . .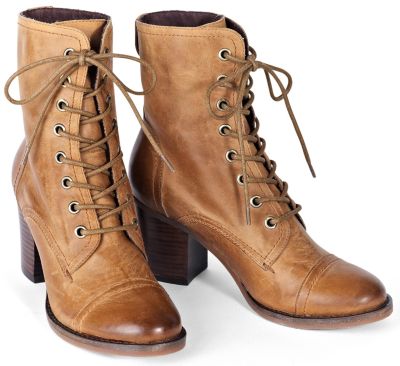 Shop all Soft Surroundings' women's boots.
Trend: Fedora Hats!
A hat in the winter is almost always be fashionable, and this year it is the classic Fedora Hat that is getting the attention.  This hat has traditionally covered the heads of lads, but with a few updates it looks ultra chic as a lady's hat.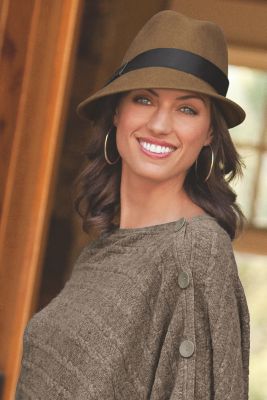 Our Fantastic Fedora is available in three delightful shades. 
We also offer a Studded Fedora.
Shop all of Soft Surroundings' ladies hats.