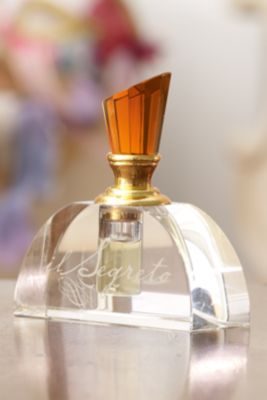 We are proud to introduce our new signature scent, il Segreto, which means "the secret" in Italian. Inspiration for our latest fragrance came from Venice, a city of mystery…
 The canals are lit like a lane of stars. Gondoliers sweep silently through the Carnival. She appears from a darkened corner, dazzled by the brilliant lights, the revelers, the masquerade that surrounds her. She searches with purpose. Her mask slips, ever so slightly, revealing intention…and anticipation. Only she knows how the evening will end.
 The secret will soon be discovered.
With this story in mind we partnered with our perfumer to create a fragrance that was both seductive and complex.  We knew it had to be alluring and sophisticated.  It also had to be made as a perfume oil, which is the most concentrated form of perfume, so that it would last throughout the day revealing all of it's beguiling layers. 
 The end result is il Segreto.  Top notes of crisp Peruvian Lime and budding Violets intertwine with ripe White Pear and elegant Peony, set against the warmth of Amber and the sensuality of Sandalwood. A fragrance both intoxicating and mysterious…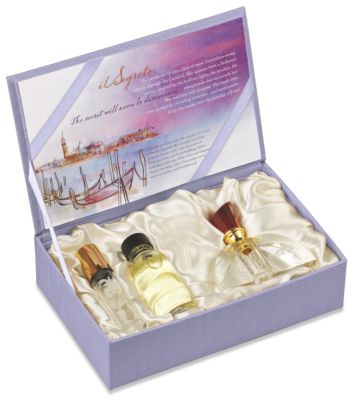 Available in a filled roller ball bottle of il Segreto Perfume Oil (0.3 fl. oz.), or the il Segreto Perfume Set which includes an engraved crystal bottle with wand applicator, an empty roller ball bottle, a 1 fl. oz. bottle of the il Segreto Perfume Oil and a miniature funnel for easy transfer into the crystal bottle or roller ball bottle.