Treat that glamour girl best friend, pet loving mother-in-law or special sister with the perfect gift for anyone on your "nice" list (including yourself).  Here are a few of our top picks this season.
For the Glamour Girl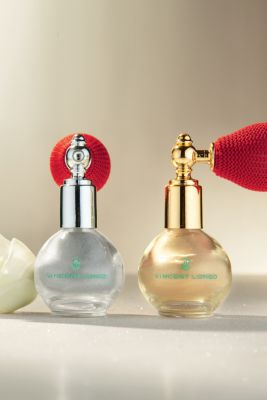 Subtly shimmering glamour is just a gentle poof away with Vincent Longo's Diamond Body Spray, a sparkling diamond-like powder that instantly adds alluring radiance to shoulders, décolleté, arms, legs and hair.
Lush, plush and soft beyond imagining, our elegant Paris Faux Fur Throw is a chic "blankie" just for us! Artisan stitching creates an opulent texture…a layer of decadent coziness surrounds you in your favorite place to snuggle.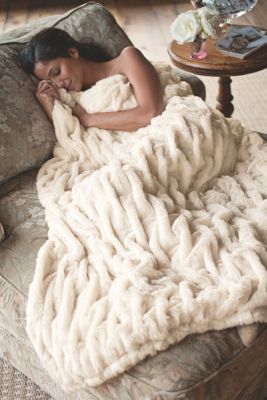 These incredible Tiffany Treasures petits fours are the ultimate, edible gift. The unbelievably moist vanilla cake is layered with velvety raspberry butter cream, accented with flavorful jam and topped with a smooth coat of silky chocolate and decorated to resemble your favorite little blue box.
For the Woman Who Loves to Entertain
Make a beautiful seasonal statement. Nest's Holiday Collection is a sophisticated and intoxicating blend of Pomegranate, Mandarin Orange, Pine, Cloves and Cinnamon with hint of Vanilla and Amber. Candles are available in a variety of sizes while reed diffusers feature an elegant glass decanter and hand-crafted reeds. From hostess to mostest, these are the perfect present!
Roll out the red carpet and pop the corn as you host an international film festival at home with a Film Festival In A Box. Four DVDs each feature four short award-winning, family friendly films (16 films total). Watch, deliberate and select Best Picture, Best Performance and Best Story. Then go online to announce your vote to the filmmakers. Sure to spark hours of fascinating conversation!
Revel in these delicate masterpieces, crafted by hand for your indulgence. The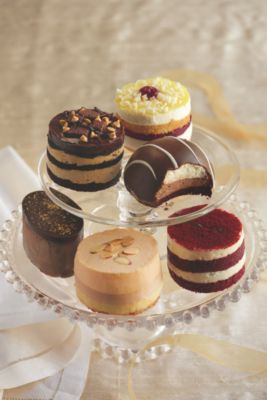 Mini Cake Sampler includes an elegant Chocolate Marquise (heavenly mousse cake dusted with edible gold), fresh Mango Guava Cheesecake, classic L'il Red Velvet, decadent Peanut Butter Explosion, luscious Tuxedo Bombe filled with three types of chocolate mousse and tempting Raspberry Lemon Drop…each incredible, individual cake, large enough to share, redefines perfection.
For the Pet Lover
Your pet will love nestling into the secure comfort of the Divine Donut Pet Bed's cozy oval outer ring and removable tufted cushion filled with high-loft, polyester memory fiber. They come elegantly covered with durable, furniture-quality microvelvet or cotton twill.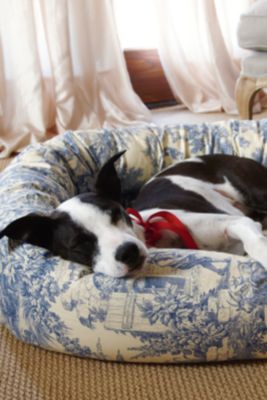 Sophisticated pets will love elegant pieces of the understated Vintage Parisian Pet Collection. The artwork features classic graphics and the French phrases. This collection includes two bowls and a decorative wipe clean placemat to rest them on.
Pooches are sure to appreciate the super stylish Bag of Bones collection of five soft and
 squeaky bone-shaped plush toys in three chic animal prints and two solids adorably embroidered with TOPDOG and FETCH. Dogs – and their owners – will love this adorable gift!
For the Romantic
YOU are the star of your own personalized, romantic adventure novel with this Romance Novel Kit.  Each of the titles serves up a steamy story of unleashed passion and glamorous destinations.  Once you have received your kit, simply register and fill in the online order form to provide more than two dozen personal details. In a few days you'll receive a 150-180 page perfect-bound novel that looks just like a real best-seller – but it's all about YOU, or the lucky giftee, on every page.  The perfect gift for anyone who ever wished her life read like a romance novel.
Wrap up in style with this ultra-soft Tres Chic Shawl that flaunts row upon row of  romantic ruffles, creating a beautiful, flowy effect.
Quality always makes a perfect present! Elegant porcelain Initially Yours Mugs and Petite Plates are decorated with 18th century French script initials.  This charming mug is sure to add a touch of romance to anyone's café au lait.  We love this small plate for its chic versatility; just right for a croissant and jam or as a small salad plate – perhaps on your bedside table for jewelry?  Each comes beautifully gift boxed.
For the Chocoholic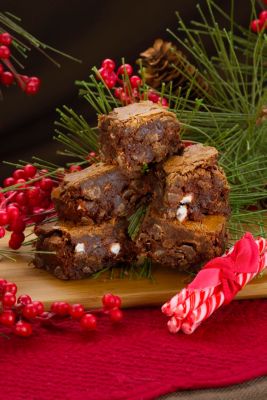 Using a recipe perfected over decades, these rich, fudgy brownies in the Brownie Gift Box are the ultimate indulgence. Unbelievably rich and moist, these heavenly confections derive their incredible flavor from the finest ingredients. Made by hand in small batches, the brownies are loaded with premium Guittard chocolate chunks for an over-the-top delectable gift worth giving – or keeping.
Tracing back to the 1700's, French macarons have been a delicacy once experienced, never forgotten. Luscious cream or rich mousseline filling is surrounded by cushions of delicate meringue. Improving on the perfection of the classic macaron, the Chocolate Covered Macarons are filled with decadent milk chocolate caramel ganache between chocolate meringues and enrobed in a rich, dark chocolate with a touch of edible gold leaf.
This sensational showstopper is a meticulously hand-crafted, (it takes over 3 weeks to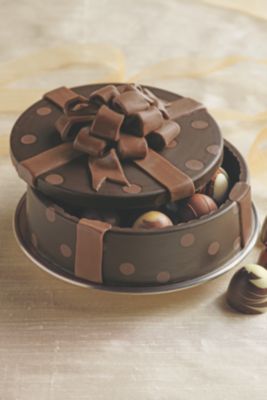 create) artisanal box of decadent chocolate! This elegant, gourmet Polka Dot Chocolate Box is sure to be the piece de resistance at your holiday party, or keep it all to yourself! This edible box is filled with 10-12 extra large, indulgent truffles in flavors such as Key Lime Pecan, Mocha and Macadamia Hazelnut.