What to Wear to that Holiday Party
With the winter holidays just around the corner, you know what that means. . . yes, we need to get ready for Black Friday shopping, and yes, we need to think about where we are having Thanksgiving dinner – our house or Aunt Claire's?  The list goes on and on of things to do and preparations that need to be made as we gear up for our annual festivities. One oft-forgotten-until-the-last-minute item is WHAT exactly are we wearing to our neighbor's annual Christmas party, which is YIKES, the first weekend in December?  Don't wait until a few hours before the shindig to try to piece something together (unless you enjoy panic ). Rather, Soft Surroundings is here to help you plan out that phenomenal outfit that will make you feel amazing and full of the holiday spirit. Let's get started!
The "All About the Season" Look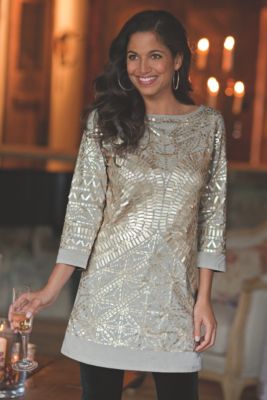 Many of us love to take the opportunity during the winter holidays to really look in-the-season!  And that is wonderful, as long as it's done right. We recommend pairing a sparkly top in silver/gray, black or gold-tones with black pants or a black skirt for the perfect amount of holiday glitz. Add simple hoop or teardrop earrings and a pair of comfortable dress shoes – your ensemble is complete and sure to WOW!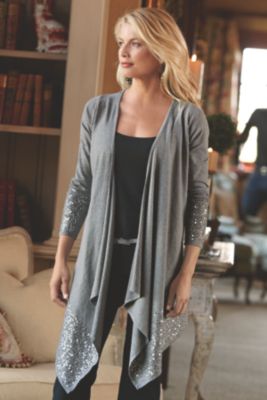 Shop these sparkly tops:
Glam Tunic
Enchanted Evening Sweater
Glitterati Tunic
Glitter Topper
All That Glitters Tank
Shop all Soft Surroundings' tops.
The Luxurious Look
Few fabrics say "luxury" like velvet, so it's no surprise that velvet has traditionally been associated with nobility since the 14th Century. Fast-forward several hundred years, and velvet still has the power to make us feel like royalty. Adorn yourself in stunning velvet apparel – whether a crushed velvet embroidered jacket or a long floor-grazing silk velvet skirt – and let the holiday magic begin!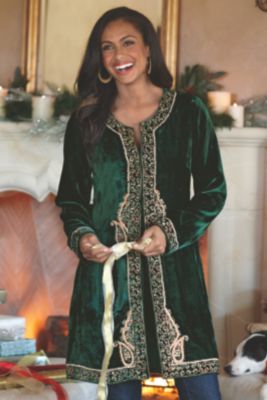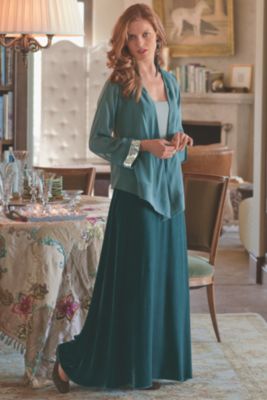 Shop all Soft Surroundings' velvet apparel.
The "Keep it Simple" Look
For some of us, we prefer to keep it simple with classic styles. You know, those styles that are always fashionable, no matter what the decade. These apparel times are in classic, neutral colors and feature drapes that flatter our feminine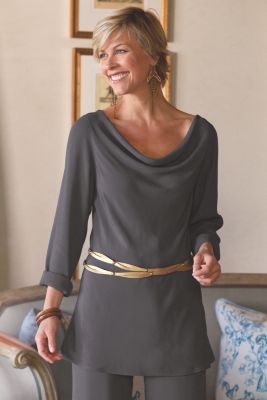 curves.  Add contrast and holiday sparkle with gold-toned or silver belts, and dangly earrings.  Don't be too surprised if your daughter copycats you on these stylish looks!
A black dress never goes out of style!  Fringe is always fun and the look can be varied with different accessories. Trade out the boots for a strappy sandal to get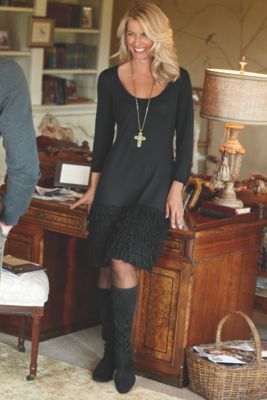 a more uptown look.
Shop all Soft Surroundings clothing.
Accessorize, Accessorize, Accessorize!
Need we say more?  The right earrings, necklaces and bracelets can completely change an entire look, and make an outfit go from so-so to GLAM!  Add these finishing touches to your holiday ensemble, OR pick the jewelry items you absolutely love and build your outfit around those pieces.
 Shop all Soft Surroundings' jewelry.