"On the fourth day of Christmas, my true love sent to me, Four Calling Birds."
What's with all the birds?  Since this song originated in medieval times, most of the birds mentioned (with the exception of the doves) usually ended up on the main course menu during the 12 day celebration. The calling birds – a mispronunciation of "colly birds" (a blackbird) that became permanently etched into the song – were no exception, often ending up beneath a crust. We recommend a more palatable gift for your true love than blackbird pie . . . our Tasting the Wine Country gift set.
Tasting the Wine Country includes more than 100 recipes from acclaimed wine country inns and resorts (Mission Inn-Sonoma, Bernardus Lodge-Carmel, Maidstone Arms-Long Island, the Aerie-British Columbia to name a few), all adapted for the home chef. The book also includes travel information, beautifully photographed food courses, suggestions on wine and food pairings, menus and tips for hosting your own wine-tasting party and so much more. The accompanying CD sets the perfect mood with performances by the Grammy Award-Winning Mike Marshall Quintet playing a combination of classical, bluegrass, Latin and jazz.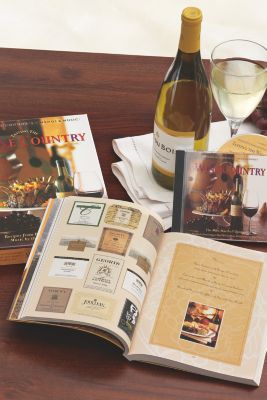 "On the fourth day of Christmas, Soft Surroundings and my true love sent to me, a Taste from the Wine Country!"