"On the eighth day of Christmas, my true love sent to me, Eight Maids a Milking."
In ages past there was no such thing as refrigeration, so keeping a gallon of milk around for more than a short time simply was not possible due to spoilage. You could get a nice cup of fresh milk, but it required that someone, usually a young maiden, milk it right from the cow and then it was drunk immediately. So a gift of eight maids a milking meant a wonderful abundance of this dairy treat, hence its inclusion in this song. Thankfully, nowadays we can just drive to the grocery store!
While you can pick up milk around the corner, one thing you will not find at your local grocery, are the exquisite petits fours offered by Soft Surroundings.  Petits fours originated in France and are small, delicious confections consumed at the end of meal, often with coffee (or perhaps a glass of milk?). It is the absolutely perfect size for a sweet delight without worry about the calories. Our petits fours feature layers of delicious cake, rich butter cream, sinful dark chocolate ganache or fresh fruit jam and are all enveloped with a generous draping of smooth, silky chocolate and topped with a hand-crafted holiday decoration to create the perfect two-bite dessert. Choose from Christmas, Chanukah or New Year's designs.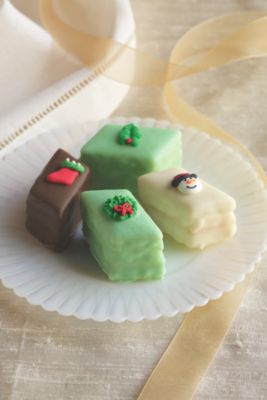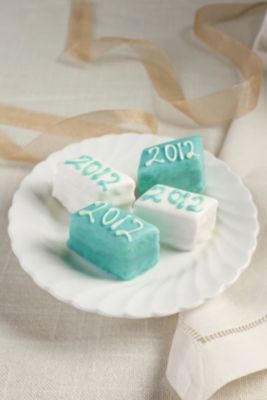 "On the eighth day of Christmas, Soft Surroundings and my true love sent to me, perfectly pretty petit fours!