"On the ninth day of Christmas, my true love sent to me, Nine Ladies Dancing."
Doesn't something about this particular stanza make you want to kick up your heels?  Contrary to what some believe, it does not refer to a troupe of dancing women at the party just to entertain the guests, rather it refers to the dancing and celebrating that party-goers were partaking in as part of the 12-day celebration following Christmas. The nine ladies dancing were participants in the celebration – dancing, kicking up their heels and having a grand time!
We believe our Mini Cake Sampler might be just the gift to give your true love or friends to help kick-start the celebrations and let the dancing being.  This mouth-watering assortment includes an elegant Chocolate Marquise (heavenly mousse cake dusted with edible gold), fresh Mango Guava Cheesecake, classic L'il Red Velvet, decadent Peanut Butter Explosion, luscious Tuxedo Bombe filled with three types of chocolate mousse and tempting Raspberry Lemon Drop…each incredible, individual cake, large enough to share, redefines perfection. If you were to share these delicate masterpieces with nine friends, we can't promise your feet won't start moving.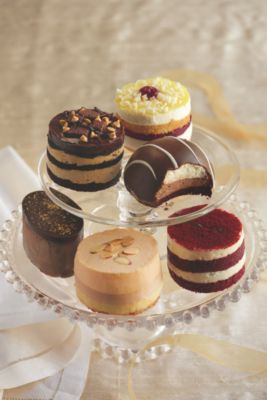 "On the ninth day of Christmas, Soft Surroundings and my true love sent to me, an assortment of mouth-watering cakes!"
This item ships Next Day Air in order to maintain its freshness and deliciousness. Please place your order by December 21st to ensure timely holiday delivery.