Isn't it amazing how much we love our pets? Well, perhaps it's not so surprising considering how truly wonderful our four legged companions can be.  Our dogs rush to the door when we arrive home, always positively ECSTATIC to see us, overflowing with that unconditional love we so depend on – turning the most miserable day into a happy one.
Our cats play it cool but will still sometimes saunter up and rub against our legs with a low purr, quietly acknowledging they are pleased with our arrival.  These furry family members are so charismatic that they can make us forget the times they try to sleep on our head or overlook the times when they dig for a do-it-yourself treat in the kitchen garbage can.
Reward their loyalty and show your appreciation for their good nature with Soft Surroundings' fun, yet functional, pet presents.  Shouldn't their accessories be as lovely as the ones we buy for ourselves?  If we can repay, in any way, the joy and love they provide, aren't they worth it? 
Cute canines are sure to appreciate the super stylish Bag of Bones collection of five soft and squeaky bone-shaped plush toys in three chic animal prints and two solids adorably embroidered with TOPDOG and FETCH. Dogs – and their owners – will love this adorable gift!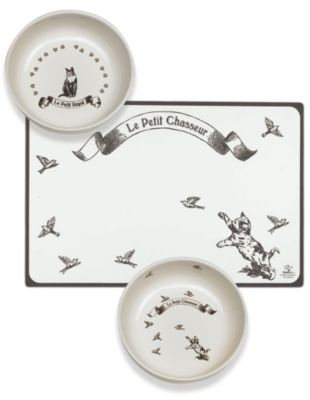 Sophisticated pets (and their owners) will love elegant pieces of the understated Vintage Parisian Pet Collection. The artwork features classic graphics and the French phrases. This collection includes two bowls and a decorative wipe-clean placemat to rest them on.  Or perhaps your pet doesn't give one woof about French, but loves the sound of you calling him for dinner – then give him instead a playful dog or cat food bowl personalized with his or her name.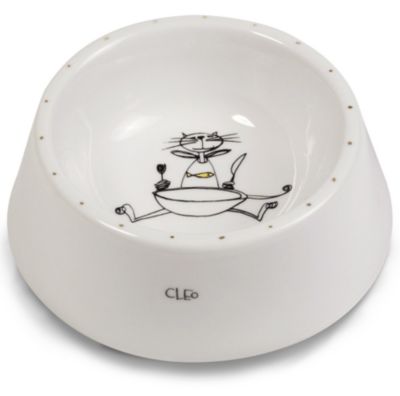 For Treat Time, we offer a personalized "Good Girl" or "Good Boy" cat or dog treat jar.  Just the sound of the lid being lifted will bring puppies running!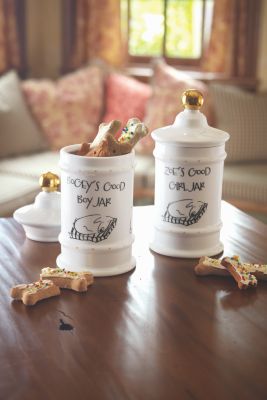 Just when you thought your dog couldn't possibly sleep more than he already does, these luxurious comfort zones will help them drift off to dreamland (full of giant dog biscuits and sprinting squirrels) even more comfortably. Your pet will love nestling into the secure comfort of any one of these delightful pet beds – the Divine Donut Pet Bed, the microvelvet plush Dutchie Dog Bed or the faux fur Hide Shaped Dog Bed and many more online at Softsurroundings.com.  Totally washable, stylish fabrics for a multitude of decors are available.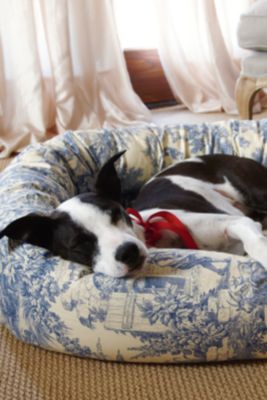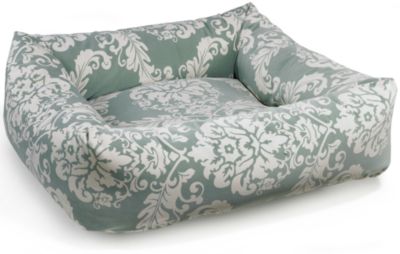 Make a fur-shionable style statement with our velvet two-toned scrunch collars, suitable for cats or small dogs. Embellished with an antique gold #1 charm and bell, this stretch collar easily slips on over the pet's head. The Velvet Pet Collar is both comfortable and ever chic.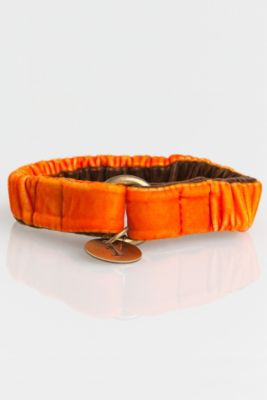 These adorable "Hot Dogs" are not dog toys but rather comfort toys for dog lovers.  An easy-to-remove, microwaveable insert provides calming warmth for hours while the relaxing lavender scent leaves you feeling soothed, comforted and ready to fall into bed. So that Fido doesn't get jealous by your new friend, you may want to hide these little guys when not in use.