Jewelry brings a little magic into your day — and is the most effortless way to change a look from day to evening, or
transform a favorite outfit and add some "wow" factor. Whatever you wish to express, well-chosen jewelry is wearable poetry; an unspoken, elegant statement; and a fabulous way to reveal your playful side — or whatever moves you. Our newest artistic creations provide fresh inspiration for taking the clothing staples in your closet from winter into spring.
 

Lighten up, and fall in love with the gilded Grecian intricacies of the Anatola Earring, featuring dazzling textural gold concentric circles accented with tiny pearls, and hung with beautifully faceted carnelian beads or luminous freshwater pearls.
 
Boast a well-traveled wrist and arrive at a great fashion moment with the chunky, handcrafted wood and resin tribal-style Havera Bangle Set — each features a different bold geometric design (striking worn both singly and stacked).
String your passions around your neck with the Pearl Elegance Necklace, wrought from delicate golden chains, lustrous pearls, and a royal court-worthy pendant featuring an ornate golden cross, shimmering crystals — and a show-stopping marquise-cut crystal centerpiece.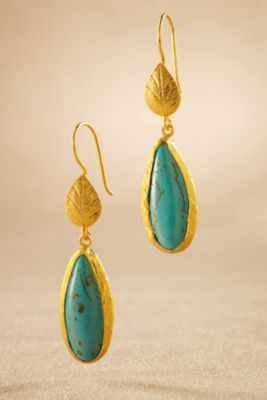 Looking for a glamorous lift? Bring warm, golden light to your face with the Marseille Earring, crafted from hammered 22k gold over sterling silver that frames superb blue-green turquoise teardrops, topped with a tiny gold leaf. (And for extra haute-ness, consider the complementary turquoise-embellished Marseille Bangle.)
Along with its enchanting color, those who believe in the mystical properties of gemstones consider amethyst to bestow calm, balance, patience, and peace. Our Amethyst Filigree Necklace in a golden setting is breathtakingly detailed with resin turquoise bead florets surrounding purple crystals, which provide a stunning complement to the natural lavender-hued polished amethyst drops, in their unique, natural shapes.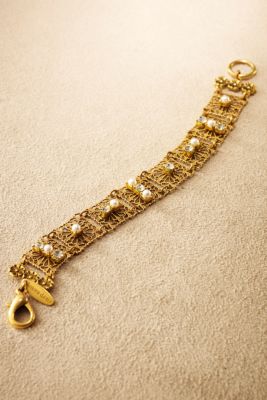 Show your sentimental, romantic nature with the vintage-inspired, gilded and lacy Cecilia Bracelet, set with artfully placed sparkling Swarovski crystals and creamy pearls. The oxidized 24K gold filigree will gleam with your every gesture, so this charming piece is sure to turn heads as it creates a very elegant moment — whether you're dressed up or casual.
 
Ready to experience a little more magic? Let our beautifully crafted designs guide your imagination on fantastic forays. Breathe, browse, and enjoy our vintage-inspired jewelry collection.