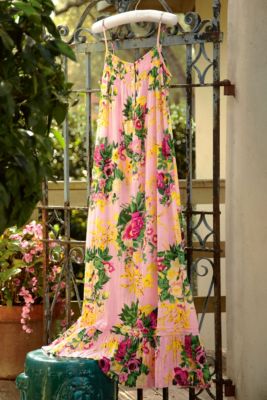 We understand that your home is a sanctuary, and within it, wearing stylish robes, sleep and lounge wear (call them pajamas if you must) in luxurious fabrics will make you feel beautiful, while relaxed and supremely comfortable. Forget pulling on sweats and grabbing a tee shirt – we've all done it, but it's so important to feel pulled together, even when engaged in your daily routine. That's why we've created airy, pretty pieces that will put a smile on your face as they fast become your 'happy place' this spring.
 
If you're already a Soft Surroundings devotee, you know that our clothes provide you with a unique combination of comfort, style, and beauty — and our sleepwear is no exception. If you're visiting us for the first time, welcome! We invite you to browse online for your spring night gowns and lounge wear, with full confidence that you'll be delighted with what arrives at your door.
 

Like a breath of the fresh air, the charm of the Genevieve Gown is irresistible, featuring a nostalgic floral print on our soft signature cotton, and all your favorite feminine details, including crochet lace and pintucks.
 
If this spring finds you more obsessed than usual with flowers and gardening (at Soft Surroundings, we are always inspired by the natural beauty of flowers), the Garden Gown was designed for you — alive with vibrant bouquets on a lovely pink background, with a vintage feel in classic crinkled cotton, finished with a ruffled hem.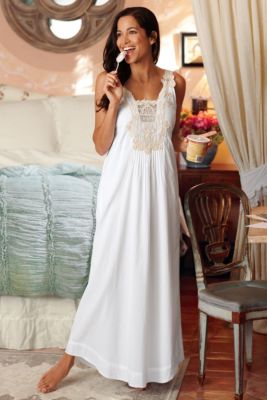 For the hopeful romantic, the Isabella Gown is an elegant, comfortable, and breezy choice (fit for a Jane Austen heroine), in pristine white cotton embellished with ivory crochet appliqué and other delicate touches. If "serenity" could be interpreted as a night gown, this would be it.
 
Are island fantasies on your mind when the first rays of spring sunshine touch your skin? The West Indies Caftan is an amazing option for easy-to-wear elegance, made of a soft jersey knit that skims your body, and exquisitely detailed at the neckline with golden paillettes and corded trim. Imagine breezing through your morning in this swinging caftan – and perhaps sneaking outside to relax and catch up on a little reading.
 
We think the Rossini Robe  will carry sweet dreams into your waking hours, splashed with a muted array of pastel paisley swirls, and cut in a flattering, drapey silhouette with princess seaming – making it as alluring as it is easy to wear.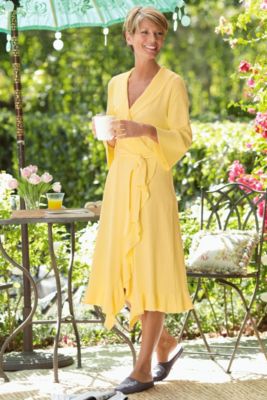 And if you crave cashmere (you cashmere junkies out there know what we're talking about), the posh sweater-knit Cotton & Cashmere Robe will be your go-to springtime favorite, to wrap you in divine, cozy softness, in a selection of delicious colors (with no skimping on romantic ruffles).
 
We're so excited that spring is upon us, and we hope we've inspired you to treat yourself to pieces that will help you step into spring stylishly, and, of course, comfortably — in your sanctuary and beyond. Browse our entire sleepwear collection, relax, and enjoy.