Chilly in the morning, sunny and warm in the afternoon, then perhaps a sprinkle or two later on. Spring's ever-fluctuating weather can be a challenge to deal with when it comes to your skin and hair!  Below are a few ideas to help you be prepared for spring's fickle ways:
Hold the oil: You left the house in the early morning chill, so you're wearing a sweater and a jacket. Now it's lunchtime, the sun is blazing and you're feeling the heat, even though you've stripped off the extra layers. Your face is shiny and in need of a serious touch-up. No worries—reach for your handy blotting papers to keep your complexion oil-free and fresh-as a-daisy. We love Mai Couture's Revitalize Oil Blotting Papiers, which are formulated with skin-rejuvenating vitamins and are packaged in a slim, portable wallet.
Stay hydrated:  Our bodies need water all year long to flush out toxins, stay hydrated and keep your body looking and functioning at its best. As the weather gets warmer we lose more moisture than usual and need to drink more. The rule of thumb is that adult women should drink about two quarts of water a day.
Shift with the changes: The products that work for your skin in the winter aren't necessarily the same ones you should be using during the warmer months. When it's cold, your skin demands creamier, richer products that nourish and hydrate dry, winter skin. As we move into spring and summer, opt for lighter skin care products that will be absorbed more quickly and won't clog your pores. Same deal with your hair: As the humidity increases, you'll need to sw
itch from a heavier conditioner to a lighter, more balancing one. And if you're used to deep conditioning your hair once a week during the winter, switch it out to every other week during the spring and summer.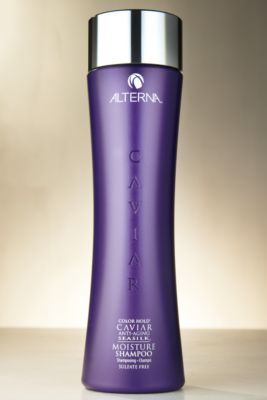 And speaking of hair… April showers bring May flowers, but they also bring rough winds, humidity and frizzy hair. This is a great time to use hair care products which are designed particularly for frizzy tresses. We love Alterna's Caviar Anti-Aging Shampoo and Conditioner for its amazing hydration.
Vaporizers. A vaporizer keeps your skin cool and refreshed when the mercury starts to climb. Jane Iredale's D20 Hydration Spray is one of our favorites to have on hand. Formulated with Seaweed Extracts and Ylang Ylang, it not only keeps your skin hydrated, it also reduces excess oils and balances your skin's pH.
Here comes the sun: And with it, the sun's harmful rays, which are a huge cause for the skin's premature aging. Wear some form of SPF every day, even when it's cloudy. When the weather gets warmer, you may need to reapply. You can also look for products that include SPF, like Perricone MD's No Foundation Foundation which provides light coverage with the added benefits of anti-aging ingredients as well as SPF 30 protection.