"Enjoy when you can and endure when you must."
How would you describe your style?
Funky
Who in your life has inspired you most?
My kids
What is your secret indulgence?
Chocolate
Where is your favorite place to travel?
Any beach, anywhere
What is the best beauty advice you've ever received?
Take care of your skin
What one clothing item is worth splurging for?
A good bra
What is one fashion rule that was made to be broken?
No white after Labor Day or before Memorial Day
Do you have a signature scent?
Clinique – "Happy"
How do you unwind?
Spend time with my dog
What are you most proud of?
My kids
How would you describe the decor of your house?
Eclectic and colorful
What's your passion project or hobby?
Therapy dog visits with my dog to the Veteran's hospital
How has your style evolved over the years?
Become much more confident
Quote to live by?
"Enjoy when
you can and endure when you must." – Goethe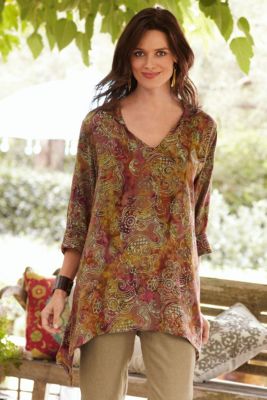 What is your favorite Soft Surroundings product?
Batik Hoodie*
*Editor's Note: The Batik Hoodie was available in our Spring 2012 catalog.