While on her travels through Turkey, staying at the fabulous Ada Hotel, our founder, Robin Sheldon discovered the relaxing world of the hammam. Dating back to the Ottoman Empire, the hammam was really the first spa experience. Designed not only to cleanse and purify the body, it was also intended to promote inner peace, bringing about a complete sense of renewal. The hammam is still popular today in Tunisia, Turkey, Morocco and Andalusia, Spain. And, fortunately for those of us who are stateside, it's starting to gain popularity here as well.
The traditional hammam ritual
follows a system of steps leading to inner and outer peace: In the entrance room, there are areas for changing your clothes, as well as a section devoted to relaxing and enjoying a cup of tea or a cold drink.
Next, you move to the warm room, a transition area which is heated by a continuous flow of hot, dry air and then to the hot room or hararet. In this beautiful, domed room, with a 4 fountains constantly running, one reclines on a large marble surface, centrally located under the dome. Once you've reached your heat capacity, you move to a fountain, where you fill an antique copper bowl with cold water which you pour over your body. Then you lie down and do it again. Exfoliations and massages are available. After your treatment, your skin is hydrated with therapeutic oil and you're taken to a cooling room where you can acclimate and drink tea. After the entire ritual, your skin is glowing and you're left feeling refreshed, rejuvenated and completely relaxed.
In the United States, hammams are popping up from coast to coast, and several upscale spas offer a high-end experience that's more tailored to Western tastes—for example, private treatment rooms for individuals, couples and even events, like bridal showers. If you'd like to replicate the hammam experience in the comfort of your own home, we have a few essential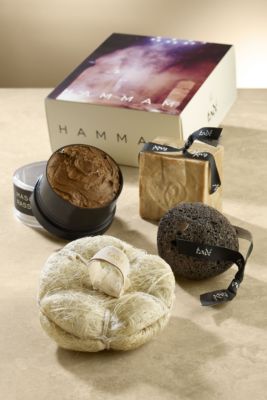 items to help you on your way, including our Hammam Robe, authentic Pain d'Alep Olive Oil soaps and our Ishtar and Hammam kits, which will help you re-create the experience at home as closely as possible. Set the exotic mood with an Ankara Pendant lantern and keep cozy with our gorgeous Adana Turkish Towels.
Shop all of our Hammam-inspired products.