"Tis better to have loved and lost than to never have loved at all."
How would you describe your style?
Feminine, romantic, easy-going, comfortable, a nod vintage.
What is your secret indulgence?
It's not so secret, but one of my favorite indulgences is chocolate…dark, white, extra dark, semi-sweet, with nuts, without nuts, with peanut butter…you get the idea.
Where is your favorite place to travel?
I love to travel in general. I love Tennessee, and would love to
someday travel to Europe.
What is the best beauty advice you've ever received?
God measures your worth not by the size of your waist, but the
size of your heart. Practical beauty advice – lots of veggies and water will do amazing things for your skin.
What one clothing item is worth splurging for?
A coat would be worth it if you'd wear it for years. Also, good
shoes that fit amazing are worth it to me because there is nothing
worse than being uncomfortable and having blisters from wearing an
ill-fitting pair of shoes.
What is one fashion rule that was made to be broken?
That various shades of neutrals can't be worn together… If it's
neutral, it'll go with anything, including other neutrals!
Do you have a signature scent?
Arcadian Designs "Secret Garden" (description: A mysterious
garden oasis where you can soak up the morning mist and inhale the
sweet flowers. You may never want to leave. Fresh fig + sweet orchid
+ tonka bean)
How do you unwind?
If it's warm outside, sitting on a porch swing with a book and/or journal… curling up on a couch (wearing comfy pajamas of course!) with a mug of herbal tea watching Jane Austen or Elizabeth Gaskal movies…playing board games with family or friends.
What's your passion project or hobby?
I love music and play the harp and piano. I enjoy writing and
have forayed into blogging a bit (www.leafynotbeefy.com).
Quote to live by?
"Tis better to have loved and lost than to never have loved at all". Sometimes it really hurts to love – especially when the love isn't returned, or if it is but the person is taken
from you. However, I don't think anyone has ever come to the conclusion that they shouldn't have loved at all…because I think in loving others, you increase your ability to love even more and have more joy in your life.
What is your favorite Soft Surroundings product?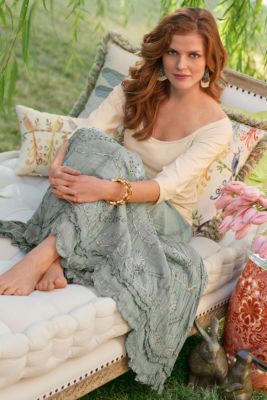 Suzette Skirt*
*Editor's Note: The Suzette Skirt was available in our Spring 2012 catalog.