By Cindy Teasdale McGowan, founder of Makaboo
I have always loved giving truly unique, made-for-you gifts. Whether it's a bottle of 1934 Sauternes for my dad's 75th birthday
(the wine and he were created in the same year!), or matching personalized Adirondack chairs for my best friend's wedding, I get so much pleasure from the hunt for something that truly expresses my loved one's individuality. I find the adage "Tis better to give than to receive" absolutely true when you take the time to give something special, so it's no surprise that I founded Makaboo, a company specializing in personalized children's gifts.
My brother has three girls and I always work hard as an aunt to find them gifts that they will know were picked just for them. Maren, the youngest, is a gifted artist, so for her birthday this year I gave a personalized easel. Her younger sister Poppy is a cherry fiend – if she had a nickel for every cherry she's consumed she would be a wealthy woman! – and I was pleased as punch to make her a Makaboo personalized sweater with her name and our cherries icon on it.
And when the oldest Ava went off to first grade, we put her mind at ease by giving her a brand-new big-girl personalized backpack with her favorite animal on it – a kitty cat. She told me she felt very special going into school knowing that no one else would have her backpack, and that she made a new friend when another girl in her class asked her about it. Now that will make an aunt's day!
I also happen to be a new mom, and I've been so touched by all of the adorable gifts my little one has received. And then there are the friends who realize that mom might be in need of a gift of her own. After a particularly rough night I mentioned to a girlfriend that I felt as worn out as the tattered 20-year-old bathrobe I was wearing. The next day a gorgeous chenille bathrobe from Soft Surroundings appeared on my doorstep. In the midst of the new baby chaos, she had heard in my voice that I needed a pick-me-up and sent *just the thing* to make me feel a little bit special, a little more feminine, a little more me. I will never forget her act of
kindness, and I think of her each day when I put my gorgeous new robe on. Isn't that what exactly what a gift is supposed to do?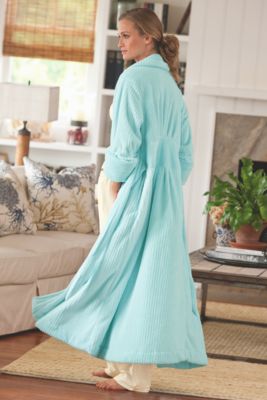 Cindy Teasdale McGowan, māk•a•boo's founder and owner, came up with the idea for māk•a•boo while working in
the Product Group at Snapfish.com in San Francisco. Cindy's love of creating uniquely personal gifts earned makaboo.com the 2012 Cribsie Award for Greatest Baby Gifts. She's an Aunt to 27 and new Mom to 1 and can be followed on Twitter @MakabooMaven.