"Life is what happens to you while you are making other plans."
How would you describe your style?
Go anywhere pieces are my favorite.
Who in your life has inspired you most?
My daughter.
What is your secret indulgence?
Chocolate and wine, but I am not sure they are secrets!
Where is your favorite place to travel?
We enjoy yearly family vacations to Disney World.
What is the best beauty advice you've ever received?
Beauty is as beauty does. I have never met a hateful person that
I thought was beautiful.
What one clothing item is worth splurging for?
A jacket that will dress anything up.
What is one fashion rule you always abide by?
Obey the mirror and forget the number on the label.
What is one fashion rule that was made to be broken?
Wearing white before Memorial Day! In the south it gets hot in
March. My fashion rule states that if it is hot enough for shorts
and flip flops, white is in season.
Do you have a signature scent?
I love clean fresh scents such as Clean Cotton or Happy Daisy.
How do you unwind?
The drive home from work is usually enough. If not, dinner out
with the family at our favorite locally owned diner is in order.
What are you most proud of?
My children. I truly feel I have been blessed with the two most
beautiful children in the world. I have one biological daughter, age
10, who is said to be a "mini-me". We just adopted a son, age 7
weeks, whose biological parents were from the Marshall islands. They
couldn't look more different and are both beautiful in my eyes.
How would you describe the decor of your house?
Southern casual. I love palm tree accents, heavy woods,
leather, and soft throws, and heavy lined silk curtains that shoot to
the ceiling.
What's your passion project or hobby?
When I have time, I love to scrapbook for my family and journal
our daily lives.
How has your style evolved over the years?
I have always been very casual, but as I age, I find myself being
drawn toward more timeless pieces rather than the trendy fashions
that used to catch my attention.
What's your beauty routine?
My routine is a quick one! Wash my face in the shower,
moisturize, then apply makeup immediately after. I am not one to be
seen without it.
Do you have a signature accessory?
Not really. I change jewelry a lot. It is an inexpensive way to
dress up the simplest of clothing.
Who influenced your personal style?
Probably my grandmother. She owned a beauty shop when I was
growing up and always sold accessories in it.
Quote to live by?
"Life is what happens to you while you are making other plans."
What is your favorite Soft Surroundings product?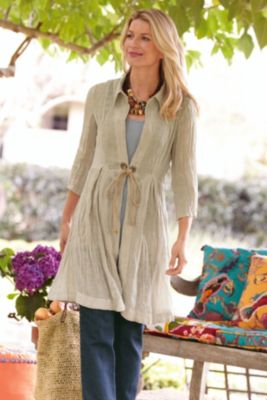 Gilet Gauze Topper