"Don't cover your gray hair; you earned it."
How would you describe your style?
I try to be stylish, but not outlandish. Being a plus-size is a fashion challenge. Not all clothing is kind to us; Soft Surroundings is a blessing.
Who in your life has inspired you most?
My father was my biggest inspiration. He was a kind, Godly man and a role model with the way he treated the world.
What is your secret indulgence?
It's really no secret…chocolate!
Where is your favorite place to travel?
Oh my, I have to choose one? I lived in Indonesia twice and Oman. Both places are wonderful. If I had to choose, I would say Southeast Asia. It's a shopping Mecca.
What is the best beauty advice you've ever received?
Be yourself.
What one clothing item is worth splurging for?
A flattering black dress and a comfortable pair of denim jeans.
What is one fashion rule you always abide by?
My own…don't cover your gray hair; you earned it.
What is one fashion rule that was made to be broken?
Don't wear white after Labor Day.
Do you have a signature scent?
I love the scent of lavender…I don't necessarily wear it, but surround myself with it. Recently, I have used White Citrus by Bath and Body Works.
How do you unwind?
Television and Facebook.
What are you most proud of?
I received my bachelor's degree at age 55 and my master's at age 57. I don't want to ever stop learning. I am also proud of my two sons.
How would you describe the decor of your house?
Eclectic oriental.
What's your passion project or hobby?
Collage.
How has your style evolved over the years?
We've both gotten older.
What's your beauty routine?
Soap and water.
Do you have a signature accessory?
Houndstooth anything.
Who influenced your personal style?
Me, myself, and I.
Quote to live by?
"Laugh, and the world laughs with you; weep, and you weep alone." Ella Wheeler Wilcox, 1883
What is your favorite Soft Surroundings product?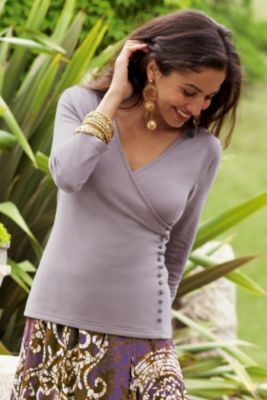 Celia Surplice Top