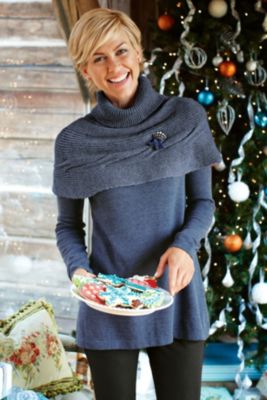 Keep your gatherings small and intimate, if possible. Get together with a few of your closest friends or relatives for the holidays. Choose to throw the big blowout parties at another time of the year, when you and your guests will have fewer commitments competing for your precious time.
When it comes time to prepare for your gathering, keep a daily to-do list, but don't turn it into a novel.  And don't chide yourself if you don't get everything done on it. Tackle only the things that truly need to happen to make your gathering possible, and relax on the rest.
Focus cleaning attention on kitchen and rooms where your guests will gather. A bedroom door can be shut, and a kid's room is just that – a kid's room.
Don't sweat the small stuff like cleaning dust behind bookshelves or the top of the refrigerator. Rule of thumb is: If you don't notice it every day, your guests won't, either.  Remember, no one is coming over to visit with your house – they're there to visit you!
Be satisfied with classy, simple decor. You don't have to get out the ten foot ladder to cover the exterior of your home in wall-to-wall lights (unless that is, you have a team of ten ready to help). Bigger isn't always better. A simple door wreath, for example is a festive and elegant alternative. Scale back interior decor, too. Focus on the tree and a few focal points in your entertaining area.
Even though the fine silver, crystal and china sound like a fabulous way to enhance your meal, people will notice your fabulous spread of food more than your table settings. Avoid the hand washing wherever possible to save time.
Yes, it's okay to buy rather than bake! There are so many wonderful, specialty markets that are great sources of delicious treats. Take advantage of time saving by ordering from a local gourmet deli that serves up a divine salad or side – or a signature pumpkin pie from a renowned bakery. The time you save frees you up to focus on other parts of the meal, and most importantly, enjoy your guests more. (Hint: Discover incredible, handcrafted treats in our own Gifts & Goodies section.)
Don't hesitate to ask for help. Most guests prefer to take on some small tasks, instead of awkwardly standing around while you attempt to do everything yourself. Can someone open the door for guests? Can someone open the bottle of champagne? You'll find many willing volunteers.
A feast of tasty tidbits is easier on the cook and can be even more entertaining than a sit down dinner. You can even share the work by hosting a potluck style meal.
Stick with your signature creations. You don't want to add to your stress by making your debut with a Baked Alaska or an intricate risotto dish. Avoid stress and save time with cooking and baking what you know.
After the last guest has left, and the dishes have been cleared, don't forget to reward yourself! Stoke the fire, indulge in a mug of hot cocoa, a relaxing bath, and the wonderful sense of a job well done hosting a gathering that you and your guests will fondly remember.
Remember to schedule breaks throughout the holiday season. Treat yourself to a massage, retreat to a day spa, or simply take an hour or two to head outdoors for a refreshing change of scene. One of the
joys of the season is to get out and see how the world outside is celebrating the season. Bundle up and walk (or drive) through your neighborhood to view the holiday lights or simply to relax and enjoy the outdoor setting.
Most importantly, remember what the holidays are all about – a time to simply enjoy and celebrate family and friends. Don't worry about getting the gold medal in task completion. Rather, give yourself permission to savor the holidays, regardless of whether or not everything is checked off your to-do list.