How would you describe your style?
Classic, stylish and romantic.
Who in your life has inspired you most?
My husband! He is so very giving and tries hard to help those around him. He is very involved in the community!
What is your secret indulgence?
Online shopping! Shhhh!
Where is your favorite place to travel?
Hawaii!
What is the best beauty advice you've ever received?
Take care of your skin in your 20's! Don't wait until later in life!
What one clothing item is worth splurging for?
Beautiful tops.
What is one fashion rule you always abide by?
Try to buy classic pieces.
What is one fashion rule that was made to be broken?
Splurge on 1 or 2 trendy items per season.
Do you have a signature scent?
Most Chanel products.
How do you unwind?
Reading outside in my backyard. No phone or noise. Only the babbling of the river and wind through the trees.
What are you most proud of?
My children and granddaughter!
How would you describe the decor of your house?
Eclectic
What's your passion project or hobby?
Crocheting
How has your style evolved over the years?
I try to dress
appropriately for my age group. But that doesn't mean I have to
dress like an old lady!
What's your beauty routine?
Clean skin and moisturize morning and night. Light make-up during the day. Sunscreen daily!
Do you have a signature accessory?
Yes, a Golden Bear necklace.
Who influenced your personal style?
Actually it's a "what"…More Magazine has been a big help when deciding what to wear at my age.
Quote to live by?
"Begin with the End in mind."
What is your favorite Soft Surroundings product?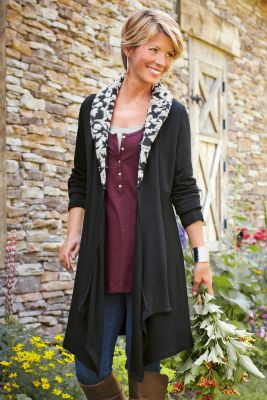 Essex Topper