Many of us think we look horrible in photographs, even if we're pretty good to look at in person. So why is it that some people photograph so well and others don't? In some cases it's being gifted with great bone structure. This is why some models can look pretty average in person but take phenomenal photos. But, bone structure aside, there are still a lot of things you can do to drastically improve the way you look in pictures. Here are a few tips… just in time for the holiday party circuit.

1. Stay away from overhead lights. These are never flattering because they create shadows in all the wrong places, like under the eyes and nose.
2. Try using "camera-ready" foundations and concealers. We love Kevyn Aucoin's The Liquid Airbrush Foundation as well as Jane Iredale's Liquid Minerals, a light-reflecting mineral foundation which feels like a second skin. Before applying, make sure to cover red spots, banish dark circles and correct other imperfections with a good concealer. Try Stila's One Step Correct for brightening the complexion and minimizing imperfections. Use blush on the cheekbones and a touch of lip gloss for added shimmer.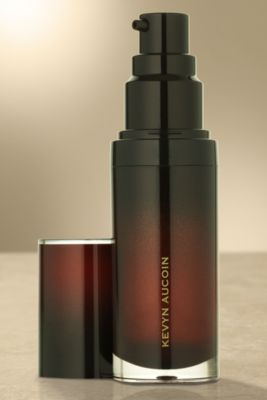 3. Wear the right clothes. Choose colors that suit you and complement your skintone. Be careful when wearing patterns; some can overwhelm you. For example, horizontal stripes can make you
appear wider than you are. Make sure not to stand next to someone whose clothes clash with what you're wearing or who's wearing the exact same color that you are, which will cause you to blend into each other.
4. Finally, there's the pose. If you look in any fashion or celebrity magazine, you'll see that most A-listers stand in "the pose." You know the one—hand on hip, angled away from the camera. So, how do you get into it? The trick is to work the angles and never stand fully forward. Place one hand on your hip and turn the lower part of your body at a three-quarter angle to the camera, with one foot in front of the other and one shoulder closer to the camera than the other. Jut out your hips a bit, then point your front toe to the camera and place your weight on
the back foot. Hold the other arm slightly away from your body to keep it from flattening out and appearing flabby. Tilt your head slightly up and forward, pushing your chin out a little and lifting your tongue to the roof of your mouth to create a slim jaw line and minimize the appearance of a double chin. Stretch and elongate your body (don't slouch!) by pulling your shoulders back and slightly sucking in your stomach. It sounds complicated, but once you get used to doing it, it'll become second nature. The best thing to do is to practice in front a mirror. Then have a trusted friend take practice shots of you so you can see what you're doing right and what you need to improve.
5. Once you've got "the pose" down, remember to relax and look confident… which isn't easy for those of us who are convinced we look awful in photos! But do try to look natural and spontaneous—if you're tense or uptight, the camera will pick up on it.