A beautiful mirror doesn't merely reflect your image; it reflects your personal style. When placed in the right spot, it can add light and depth to a room, enlivening your decor and creating the illusion of more space. And—in the case of the gorgeous mirrors featured in our new Retreat collection—they bring an artistic element into any abode by layering on a surprising mix of materials, textures, finishes and design inspirations. Read on and see for yourself:
Thanks to its grand-scale proportions and dimensional carved molding, our Villette Mirror is an instant focal point wherever you choose to place it. We adore it over a fireplace, sofa or entryway console.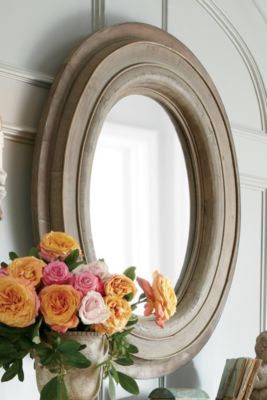 Topped with a flowing, dimensional ribbon—just like the kinds found on antique bed cornices—the Jules Mirror is expertly turned and carved by hand of solid planked wood. Its impressive size makes a stunning statement in the bedroom or atop a bathroom vanity.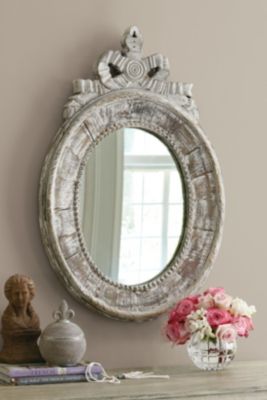 Also impressive over a wash basin—as well as above a dresser or mantel—the beautifully beveled Imogen Mirror is set within a leaded aluminum frame with burnished edges and a distressed finish.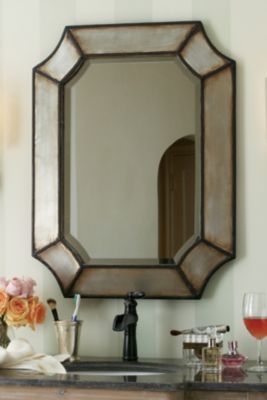 Possibly the fairest of them all, the Brigitte Tri-Fold Mirror merges a gothic Venetian silhouette with a dose of Hollywood glamour. Framed with a double-mirrored border, the tri-fold design is über-chic atop a vanity.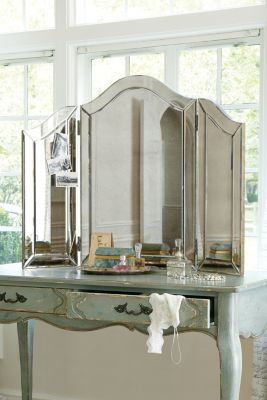 Looking for some architectural inspiration? Inspired by a century-old ceiling medallion, the Soleil Mirror has an intriguing starburst shape detailed with raised moldings and grooved accents. A chalky white, heavily distressed finish and smoked mirror gives it the timeworn beauty of an antique find.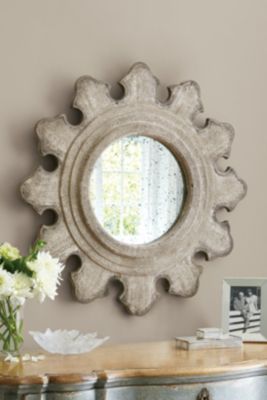 We love the architectural element that our Lucarne Mirror brings to a space. Reflecting the classic dormer-style windows found in 19th century homes, this unique piece adds window-like presence to a blank wall.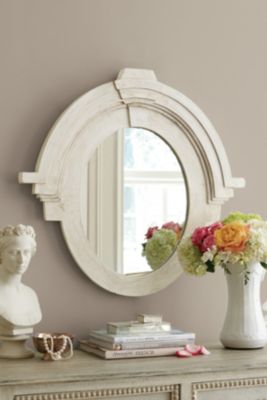 If it's regal splendor you're after, you'll adore the Louis Philippe Mirror. Designed with curved edges, beaded trim and glimmering gilt finish, this large-scale piece brings a soupçon of Louis Philippe grandeur to a room, whether suspended over
a mantel, entryway console or bathroom vanity.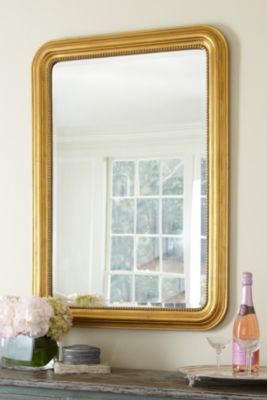 A simple yet distinctive piece for the bath and well beyond, our Vivienne Mirror artfully displays hammered sheets of tin wrapped around a molded solid wood frame. A burnished matte finish and tack trim give it a hint of industrial-chic style.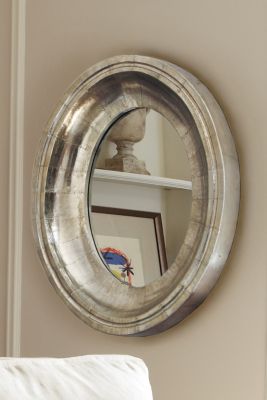 More than mere looking glass, the Rouleau Mirror is a work of art for the wall. The shapely wood plank frame is heavily distressed for the look of weathered driftwood. It's centered with a smoked antique mirror encircled with carved fleur-de-lis that have been painted for a subtle metallic finish.
Tips for decorating with mirrors:
Now that you've found the mirror of your dreams, how can you use it to its best advantage? Maximize your room's style and decor with a well placed mirror. Below are a few tips for using mirrors throughout your home:
• A bright addition to the entry. Entries—which often lack natural light—can be enhanced with the addition of a mirror. Guests will welcome the thoughtful accent so they can check themselves before entering your home. And you'll appreciate having a last look in the looking glass before heading out the door.
• Make a small room feel larger. When placed opposite a window wall, a mirror can multiply the view, add dimension and instantly create the illusion of more space.
• Dining room drama. Dining rooms are a perfect place for mirrors, especially with tall candles reflected in its surface, enhancing the warm, welcoming glow.
• Hang over the fireplace. A fireplace is often the focal point of a room. Add even more grandeur by placing a large, beautifully framed mirror over the mantel. Not only will this brighten the room, it also reflects
whatever decorative objects you've placed on the mantel.
• In the bathroom.  Of course you need a mirror above the vanity in your bathroom—but think outside the box. Instead of some humdrum mirror found in the usual big-box home store, give your bath some character with something more special—like our Vivienne Mirror or Imogen Mirror.
• Dramatic effect.  A large-scale mirror can be the focal point of a room all by itself. Lean a full-size, beautifully framed mirror against a wall as a simple way to bring instant drama to a bedroom, living room or hallway.