"When they run you out of town, get out front and make it look like a parade."
Describe your style?
I live in a small town, but I wear make up every day and try to dress nicely, even when I'm going to the post office. I'm an artist
and I try to wear things that are feminine and a little dressier than casual clothes like jeans and t-shirts. When I work, it's in a gallery and I like to look professional.
My idea of a perfect day is. . . 
Doing a design for a stained glass window or working on my children's book. I'm doing the artwork now.
Who has most inspired your fashion sense?
My mother worked at Paramount Studios with Edith Head for awhile. She made her own clothes and was always stylish. She would see a picture in a magazine and make her own pattern.
What one fashion rule do you always abide by?
Wear something you feel comfortable in. If it doesn't fit your personality, you can't be yourself.
The biggest fashion faux pas (mistake) I ever made was. . .
I bought two pairs of leather pants. I thought it was youthful and forward thinking. I wore them once and decided that wasn't the look I was after. I like feminine clothing, ruffles, silk and soft things.
What article of clothing is at the top of your shopping list?
I love to buy tops. Pants aren't as interesting. But the variety of tops is awesome!
Describe what's in your travel bag.
I always take my Vitamin C cream. I've been using it for several months and it has made my age spots better. Now I'm using it on the back of my hands. I may end up bathing in it…
The best beauty advice I ever received was. . .
Stay out of the sun. I'm a Southern California girl and always wore a hat. My face looks pretty good for my age, but the rest, well, let's say it didn't fare too well.
Name your signature scent.
Aya Blu
How do you unwind?
I love
my computer. I love the places it's taken me and the friends I've met. I didn't start on the computer until late in life (work obligations), but I love it now that I'm retired.
Where is your favorite place to travel?
Since I was a little girl, I have loved to go to a place on the coast of Oregon. There are these little cottages that look like they were transported from England, right on the beach. I always feel as if I've been transported to a far away and exotic place.
Do you have a passion project or hobby?
My friend lost her husband suddenly a few months ago and was really very sad. I wanted to cheer her up and wanted to find something that might interest her in life again. I told her of my interest in miniatures and how I wanted to create a fairy garden. We both started making them and she was smiling again. We've had many fun hours making and planning our little gardens.
Describe the most memorable gift you've ever received.
When my daughter was about 13, as a surprise, she cleaned up a giant mess in our house. Besides working at my usual job, I got a job decorating a big jewelry store. I wanted to make enough money to give my two children a good Christmas. The house was knee deep in ribbon, plastic decorations and glitter. My daughter cleaned all this up with a cast on her leg. It was the best Christmas ever and the best present.
How has your style evolved over the years?
Not a lot. I've always had long hair. The only time it was short was when my sister had to use me as a model for her haircuts. I couldn't grow it out fast enough. What we won't do for our sisters!
One item I never leave the house without. . .
Earrings. If I'm out, I have to go buy some. I found out years ago that my mother-in-law had to do the same thing. We both have a lot of earrings now.
Quote to live by?
"When they run you out of town, get out front and make it look like a parade." In other words, turn it around and make the best of a bad thing. I try to live by these words. They have seen me through some bad times.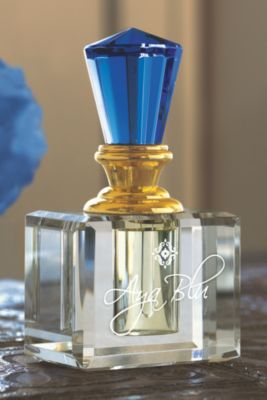 What is your favorite Soft Surroundings product?
Besides all the interesting clothing, I love Aya Blu perfume. My husband adores it. I've been asked many, many times what perfume I was wearing.