Oh, how we love a slimming style! Throw on a tunic and "voila" – instant flattery.
The tunic is a wardrobe must, especially as we work on getting
rid of pesky holiday pounds during the winter months.
Here are three great reasons why we love tunics:
1) They're flattering on everyone.
Short or tall, slim or curvy, the tunic looks good on any frame when you get the silhouette and proportions right.
If you have a tummy, choose an empire waist or a drawstring or elastic waist that sits low on the hips. Avoid too many details around the midsection, like pockets.
If you have full hips and thighs, choose an A-line shape that glides over the lower body. Opt for a longer style with a hemline that won't cut across the widest part of your silhouette.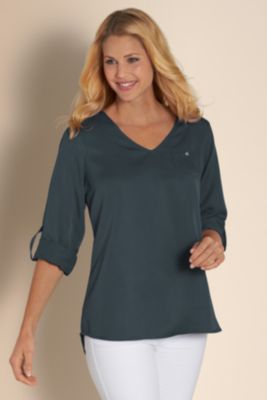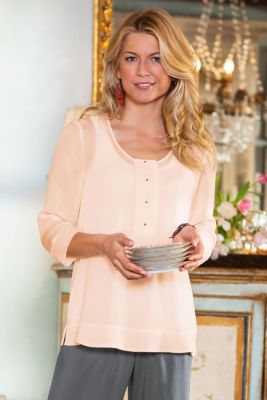 2) They are incredibly versatile
Slim or skinny jeans perfectly balance a flowy or blousy tunic. Complete the look with flats or wedge sandals.
You can also wear your tunic as a dress with tights or leggings – just make sure your tunic is about mid-thigh length or longer.
Tunics can transition with ease to a night out. Pair a tunic in a luxurious fabric with dark jeans and flirty pumps – and pile on the jewelry!
A tunic can also double as a fashionable beach
or pool cover-up. To transition your tunic from waterside to alfresco dining, pair it with shorts and sandals.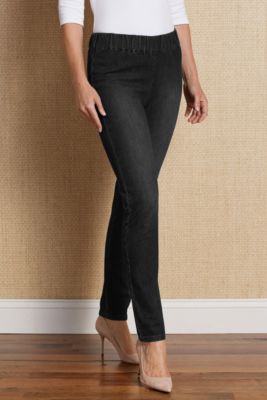 3) They are always in style
Since they were first introduced by ancient Roman and Greek goddesses, tunics have always been in style. They're modern classics that are newly chic, thanks to a wide array of fresh styles – many of which you'll find in our latest collection!