It was a privilege to speak with Dr. Gary Goldfaden, MD, respected Miami buy viagra no prescription dermatologist and founder of the fabulous skin care line, Goldfaden MD.
Q. What inspired you to go into dermatology?
A: Originally, I had several major problems when I was younger—severe acne, which affected my personality and my confidence. I couldn't seek help for it until medical school, where I was directed to a dermatologist who I looked to as a mentor. He treated me and helped with my self-confidence, which started me on the path to dermatology. Dermatology makes a big difference in a great number of people's lives—people of all ages.
Q: Why did you choose to launch your own skin care line?
A: For many years, skin care was not a major practice in people's everyday routines. I would get asked for recommendations for products to treat things like dark circles, uneven skintone, early wrinkling. There was a need for products to treat these issues. By creating my own line, I was able to have a hand in controlling what my patients are using and making sure that they were not getting into wrong things or inappropriate habits. It gave me the opportunity to help my patients and see results, and pass it forward to others.
Q: You're the first dermatologist to approach skin care naturally. How did you come to the decision to work with only natural and organic ingredients?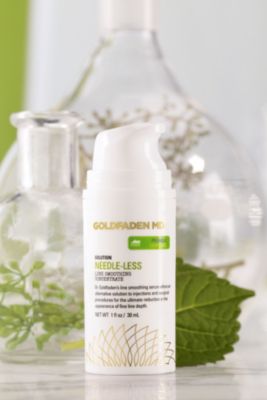 A: I saw that there was an opportunity to try to bridge the gap between commercial skin care products and therapeutic remedies through natural ingredients. I live in a healthy and organic type way, and I've passed those habits down to my family. So I thought, why not incorporate this into a topical regimen, without exposure to harsh chemicals? I decided to solve skin problems through solutions with natural and organic ingredients that served both a therapeutic and preventative program.
Back when I was in medical school, no one talked about vitamins and supplements. Preventative medicine wasn't part of the curriculum. Now there are appropriate ways—both therapeutic and preventative—to help your skin. The things that are coming out now weren't even thought of back at that time.
Q. You recently re-launched your line. What inspired you to do that?
There were no lines out there that were dermatologist-founded, all-natural and solutions-based. We didn't think that we were adequately giving that message with our packaging. By re-launching with new packaging, we can better convey what we are. Now people can see it. I'm extremely happy in the way it came out.
Q: What is your approach and philosophy towards skin care?
A: The number one thing to be cognizant of is that if you want to have healthy skin you nee
The next essence of my regimen is exfoliation. Once you remove the outer layers of the skin, when you apply actives (i.e., antioxidants) that benefit whatever issue you're trying to treat, you're getting those ingredients to the newer, deeper areas of the skin.d to have a daily regimen in tact. You need to try to avoid the problems that can lead to difficulties with your skin. Generally speaking, that would be avoiding the sun, pollutants, toxins and smoking.
Q: You use some amazing ingredients in your formulas. Are there any specific ingredients you turn to again and again?
Hyaluronic Acid is a fairly commonly used product right now, and I think it's an important ingredient. Let me give you analogy. If you think of a basketball net, the strings of the net are basically Collagen. Now if you think about the spaces in between the net, that's Hyaluronic Acid and water. As you age, the water and the Hyaluronic Acid begin to disappear, and the netting starts to crumble. That's what causes wrinkling, creasing and aging of the skin. So if you put back the Hyualuronic
Acid topically, it helps bring moisture back to your skin, plumping it internally and externally.
Then there are ingredients I use to solve specific problems. The peptides I use in one of my products mimics the effect of Botox. Botox paralyses the muscles. These peptides penetrate into the skin between the muscles and the nerves to mimic the effect of Botox without the pain, injection or possibility of infection.
Another ingredient I turn to again and again is organic Red Tea. It grows in South Africa, where it's been used for centuries. Red Tea doesn't have caffeine or tannins of other teas, but what it does provide is incredibly powerful antioxidant protection.
We use a lot of plant- and fruit-based complexes, keeping in mind that the deeper the color of the fruit or vegetable, the greater concentration or strength of its antioxidant powers. So in our formulas you'll see a lot of cherries, blueberries and blackberries, for example.
Q: What sets your products apart from other skin care lines?
A: Goldfaden MD is the first all-natural, dermatologist-created, solutions-oriented line designed to treat skin problems without having to go to the dermatologist's office.  In addition to incorporating my 45 years' experience, Goldfaden MD bridges the gap between commercial, multi-ingredient products and therapeutic, natural and organic ingredients.
Most dermatologists are getting more and more involved with injectable fillers and more cosmetic issues, and I'll do that for my patients if they ask for it. But if you can help people who don't want injections—if there's a line that can give you the same results naturally, and proven dermatologically, that's a big asset—and I don't think there are any other lines out there that are doing that.