Submit your "My Style Profile – Home Edition" to be featured on our Blog and a special tab on our Facebook page.
"Surround yourself with items that give you pleasure."
How would you describe your home's décor?
Our home's decor is "secondhand" subtle.  We buy almost all our furnishing pieces from estate sales, yard sales and Craigslist…and then refinish, paint and refurbish, if needed, to make each item uniquely special in our home.
What inspires your design style?
Dave Ramsey's Financial Peace class motivated us to do more, with less.  Instead of spending thousands of dollars on new items for our home, we diligently watch for items we would like to have in our home, via sales or estate and garage sales. We save money and enjoy the "hunt" as much, or more than the actual purchase.  It is a win-win situation for us, in our journey to become debt free.
Is there a specific city or time period that has most influenced your home décor?
Our home has a distinctly "Southwestern" style, which works perfectly with
our proximity to Tucson, AZ.  We like older furnishings…not modern, and lean heavily towards wooden pieces that might have minor flaws, which add to their character, without detracting from their original beauty.
Where are your favorite places to shop for YOUR home?
We love to shop "The Girl's Estate Sales," which is a locally operated company based in Tucson, AZ. We also like community yard sales, and Craigslist.  My husband and I built our greenhouse using many, many Craigslist items, and saved hundreds of dollars doing so. Our home's interior furnishings are a delightful "mish-mash" of pieces that we have given new life to, and a new home.  
What colors are your current favorite to decorate with?
We love brilliant colors in our furnishings and paintings, while using light cream colored walls as a backdrop.  Our furnishings stand out nicely, and don't vie for attention. Many homes in Tucson use brightly colored walls, and the furnishings get "lost" in the ensuing visual overload.
What is your favorite room in your house?
With an open floor plan and wide arches, our kitchen, dining, living room and main hallway are all one big, open room. This is our favorite area of the home, and where we entertain our family and guests.
If you could pick one room to redo, which would it be, and why?
We would redo our office to make it flow better and allow for more storage and more attractive furnishings. We share this room, and have two computer stations, so that my husband and I can "surf" together.  It is our least favorite room in the house.
What piece in your home is most precious to you?
The bench I painted for my husband is most precious to both of us. We found the bench on Craigslist for $25, and I painted a scene of my husband, myself and our dog Rufus.  My husband serenades me with his guitar every evening, and our dog Rufus would watch him play. Rufus passed away last summer, and this bench is a reminder of those good times. 
What one statement piece would you love to have in your home?
We would love a computer desk/station that would organize our office, and be eye-appealing at the same time. 
What home item is worth splurging on?
An item that calls your name when you see it…and keeps calling when you spend the money and take it home.  It continues to give pleasure every time you see it, and you NEVER regret the original cost.
How do you make your home feel welcoming?
We love to entertain family and guests, and take pleasure in creating a friendly atmosphere with excellent food, drink and laughter.  With a large entertaining area and comfortable seating, we can accomplish this easily.  We are blessed.
What do you think creates a comfortable, relaxing atmosphere?
First and foremost would be the people that you entertain. An inviting area would combine lots of space and comfortable seating / furniture, with big windows to view the scenery outside, while enjoying the atmosphere inside. A comfortable outdoor area that could be utilized also, would be icing on the cake.
What one piece of decorating advice you would share with others?
Be true to yourself, and surround yourself with items that give you pleasure and make your home uniquely your own.  If you allow yourself the freedom to be different, the results can be very satisfying and give others a glimpse into your special personality.
What is your favorite Soft Surroundings Retreat item?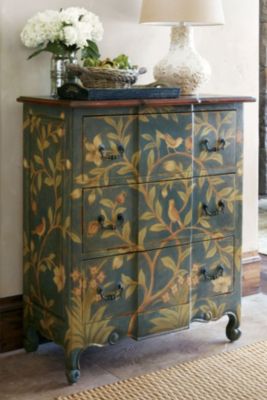 My favorite item is the Francois Three-Drawer Chest. I love the painted details and its unique design and functionality, along with its eye appeal.