"We must be the change we wish to see in the world."
What three words best describe your style?
Sophisticated, sexy, & classy.
My idea of a perfect day is. . . ?
A walk on the nearby beach after a storm, and finding beautiful sea glass.
Who has most inspired your fashion sense?
My Grandma 🙂
What one fashion rule do you always abide by?
Everything has to match and meld from head to toe.
The biggest fashion faux pas (mistake) I ever made was. . .
Wearing clothing too baggy.
What article of clothing is at the top of your shopping list?
That beautiful deep royal blue Victorian-looking bathrobe. (Vintage Starlet Robe)
Describe what's in your travel beauty bag.
Foundation, concealer, powder, eyeliner, eyeshadow, eyelash curler, mascara and blush.
The best beauty advice I ever received was. . .
"Always take good care of your skin!" Grandma Lou
Name your signature scent.
Realm
How do you unwind?
Sitting out on my deck listening to the waves crash in.
Where is your favorite place to travel?
I would love to go to Italy.
Do you have a passion project or hobby?
I love to read and have a passion for life after beating breast cancer!
Describe the most memorable gift you've ever received.
From someone I've never met, 2 bottles of a special scalp conditioner that re-grows hair. So touching, and a real miracle product after losing all my hair from chemotherapy.
How has your style evolved over the years?
I've become more refined in my taste preferences.
One item I never leave the house without. . .
My Chapstick.
Quote to live by?
"We must be the change we wish to see in the world."
What is your favorite Soft Surroundings product?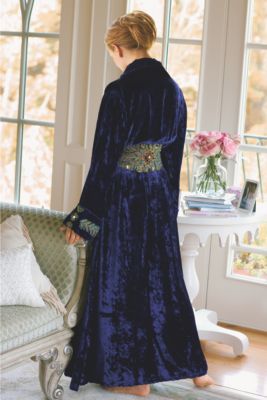 I love all of it!