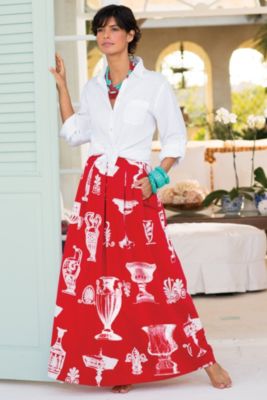 Here at Soft Surroundings Spring means we are on our way to France. Every year we spend several weeks in April on a treasure hunt through the countryside, searching the local markets and brocantes in hopes of finding new inspiration for the coming seasons. Sometimes it's the small hill town with only one store that surprises us with an amazing piece of art which becomes the basis for a new skirt. Perhaps a consignment store reveals an antique perfect for reproduction. The iron grill work of a balcony becomes the jacquard for our next favorite shirt.
We always wish we could take you along. So this year, we are going to post everyday on Pinterest to bring as much into our experience as we can. You can also follow me on Twitter (I honestly never thought I'd do this) to be right there when we discover our next exciting find and the next perfect croissant! We'll introduce you to our family and give you first peeks at our direction for the coming seasons.
Or you can go to softsurroundings.com and click on "Follow Robin in France." We will begin posting on April 13th. We're thrilled to have you along!
Robin Sheldon
President and Founder
Robin@SoftSurroundings.com