"A pretty face is nothing compared to a beautiful soul."
How would you describe your style?
Classic with a twist!
My idea of a perfect day is. . . ?
Waking refreshed, I enjoy my one cup of French press coffee while allowing myself to "imagine" my closet is finally PERFECT! And then BAM! Facing reality, I stop dreaming and start doing whatever projects I have jotted down in my planner. Yes, I still do the old fashioned list-making. I feel great when I actually accomplish most of what I have desired to do. And it always helps when I have a good hair day!
Who has most inspired your fashion sense?
Unfortunately, I don't have a specific mentor or style guru. My greatest influence has been "KEEP IT SIMPLE STUPID!"
What one fashion rule do you always abide by?
Do not wear a size, wear what flatters you! Women are so freaked out by numbers. Get over that!
The biggest fashion faux pas (mistake) I ever made was. . .
Trying to wear red. I love the color but it looks dreadful on me. So, the color red in my wardrobe is limited to my shoes.
What article of clothing is at the top of your shopping list?
The perfect jean, slacks, pants, shorts. Anything on the bottom that FITS properly! That, for me is the most arduous task – perfect fitting bottoms.
Describe what's in your travel beauty bag.
Make-up – mascara, a tinted moisturizer, eyebrow pencil, eyeliner, duo neutral shadow. Lip balm, one lipstick for added color, and a multi-colored powder compact that perks up my pale complexion. Skin care – Clarisonic, Burt's Bees moisturizer, eye cream, cotton pads, and alcohol-free toner. Hair – mini hair dryer, a few Velcro curlers, curling hair gunk, Mark Anthony Dream Waves Beach Spray, Keraste hair Elixir.
The best beauty advice I ever received was. . .
A pretty face is nothing compared to a beautiful soul.
Name your signature scent.
Lavender. I use Dermalogica Stress relief treatment oil for my fragrance.
How do you unwind?
My unwind-at-home day spa routine. Bath with Dr. Bronner's Lavender soap, soft music on my CD player, a lit candle, a mask on my face while I soak a while. Once out of the tub, I will give myself a simple manicure, put on some cozy clothes and it's period-movie time. Can't wait for Les Miserable to come out on DVD. Anyone else as thrilled as I am that Anne Hathaway won for best supporting actress? That's the only reason I watched the Oscars!
Where is your favorite place to travel?
Ideally, I am certain it would be France. But I have yet to do so. But I love New York, as well as Santa Barbara and Napa Valley. I have traveled all throughout the United States and for me, California has it all (just hope it doesn't fall off into the Ocean while I am living here –I am a lousy swimmer)!
Do you have a passion project or hobby?
I am a singer, performer, and entertainer. I write lyrics for compositions. It is not just a hobby or a passion it is MY LIFE!
Describe the most memorable gift you've ever received.
My adorable fiancé handpicked some roses from a friend's bushes and he brought them to me. He had been helping his friend with some landscaping (just mention a power tool and my now husband is there!). But he walked in all dirty like a little kid and had the most incredible bouquet of PURPLE ROSES wrapped up in a damp paper towel. It still brings tears to my eyes. Cross my silly and generally unsentimental heart…
How has your style evolved over the years?
Hmm… my clothes must be comfortable. Only for performance will I wear the "Kill Me!" shoes.
One item I never leave the house without. . .
Lip balm.
Quote to live by?
We can complain because rose bushes have thorns or rejoice that thorn bushes have roses. -Abraham Lincoln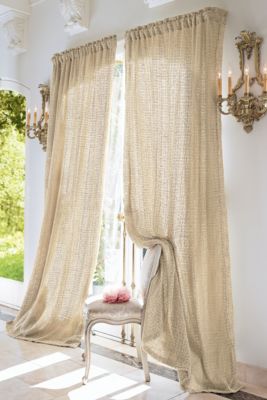 What is your favorite Soft Surroundings product?
Oh, that question is practically impossible to answer, but since you asked, I "lust" for the Raw Silk Woven Drapery Panels. They are SPECTACULAR!