Submit your "My Style Profile – Home Edition" to be featured on our Blog and a special tab on our Facebook page.
"If you love it, you can always find a place for it."
How would you describe your home's décor?
Eclectic Coastal Chic
What inspires your design style?
The colors of the ocean.
Is there a specific city or time period that has most influenced your home décor?
Anything by a beach.
Where are your favorite places to shop for YOUR home?
Any little out-of-the-way places where you find cool treasures. Thrift shops & used furniture ships.
What colors are your current favorite to decorate with?
Soft greens & blues. Sea glass colors.
What is your favorite room in your house?
My enclosed front porch.
If you could pick one room to redo, which would it be, and why?
Believe it or not, my laundry room. It's the only place I haven't spent the time to make feel cozy.
What piece in your home is most precious to you?
A mirror framed in sea glass and beach china.
What one statement piece would you love to have in your home?
A fabulous rug in the living room.
What home item is worth splurging on?
The best and most comfortable mattress.
How do you make your home feel welcoming?
By making it comfortable, with nothing too fancy or contrived so you can plop anywhere, use everything and feel at home.
What do you think creates a comfortable, relaxing atmosphere?
Pillows & blankets for "nesting" with cozy seating throughout.
What one piece of decorating advice you would share with others?
Don't buy it if you don't love it. And if you love it, you can always find a place for it.
What is your favorite Soft Surroundings Retreat item?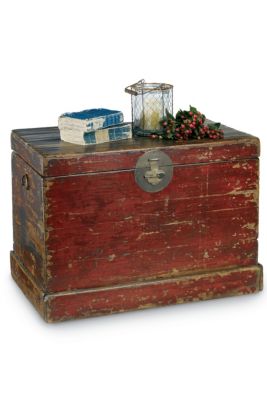 Germaine Trunk