What three words best describe your style?
Classic, alert, stated.
My idea of a perfect day is. . . ?
A great jewelry, gem, and pearl trunk show.
Who has most inspired your fashion sense?
Just me
What one fashion rule do you always abide by?
Sometimes Less is More.
The biggest fashion faux pas (mistake) I ever made was. . .
The mini-skirt!
What article of clothing is at the top of your shopping list?
A long skirt, then a scarf.
Describe what's in your travel beauty bag.
First, my Peter Thomas Roth skin care products. Second, the glamour product. Then body, foot care and nail products.
The best beauty advice I ever received was. . .
Exfoliate and moisturize.
Name your signature scent.
Chanel
How do you unwind?
Make expensive jewelry for friends as unexpected gifts.
Where is your favorite place to travel?
Paris
Do you have a passion project or hobby?
Jewelry making and prison ministry.
Describe the most memorable gift you've ever received.
A handmade Anniversary card from an inmate my husband befriended while on prison ministry.
How has your style evolved over the years?
My "style" has remained consistent, I simply keep up with changes and cover up more as age dictates, but attitude remains the same toward style.
I never leave the house without. . .
Purse
Quote to live by?
"Keep calm and carry on."
What is your favorite Soft Surroundings product?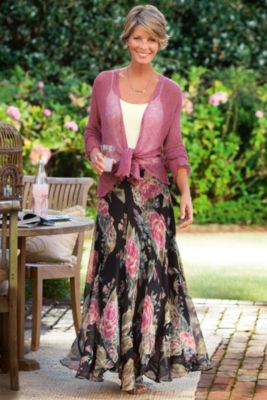 All skirts I have ordered, most recently the Emma Skirt.