How would you describe your style?
Classic with a touch of funky.
What is your secret indulgence?
Massages
Where is your favorite place to travel?
The Caribbean
What is the best beauty advice you've ever received?
Always wash your makeup off.
What one clothing item is worth splurging for?
Jackets
What is one fashion rule you always abide by?
Not to dress like I'm still in my twenties.
What is one fashion rule that was made to be broken?
Flip flops CAN be stylish!
Do you have a signature scent?
Beyond Paradise by Estee Lauder in the summer and Liz in the winter.
How do you unwind?
Relaxing in the hot tub or listening to good music.
What are you most proud of?
My children
How would you describe the decor of your house?
West Indies in most rooms, some Italian in the kitchen.
What's your passion project or hobby?
Gardening
How has your style evolved over the years?
Because I've developed Fibromyalgia, I have come to value comfort more. I've also become more aware of what I like instead of what the current fad is.
What's your beauty routine?
I work from home, so most days I just put on a bit of anti-wrinkle serum and leave the makeup for business meetings.
Do you have a signature accessory?
I always have a bracelet on.
Who influenced your personal style?
My husband's aunt Janice.
Quote to live by?
"Oh I wish I was there tonight…on Jost Van Dyke…" –Kenny Chesney
What is your favorite Soft Surroundings product?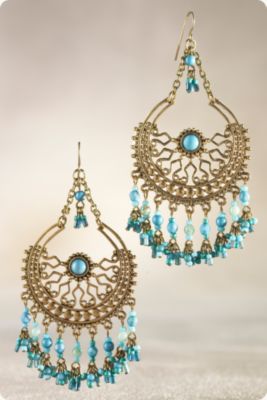 Izmir Jacket*
*Editor's Note: The Izmir Jacket was featured in the 2012 Fall Preview catalog.