"To forgive is to set a prisoner free and to discover the prisoner was you."
What three words would best describe your style?
Fun, spontaneous and comfortable.
"My idea of a perfect day is. . . "
A crisp Autumn day, with the sun shining through the Creator's handiwork, a walk in the leaves and always a very good coffee with my husband!
Who has most inspired your fashion sense?
Mum and a family friend! Women who never condemned another person's style but always enjoyed putting colors and fabrics together.
What one fashion or beauty rule do you always abide by?
Enjoy putting your look together! If you try to hard or are stressed, you will be trying to keep it 'right' all day! No fun!
The biggest fashion faux pas (mistake) I ever made was. . .
A mauve blouse (ill-fitting and just too boring over a pair of jeans – it still makes me cringe).
What article of clothing is at the top of your shopping list?
The Monte Carlo Dress – such potential – oh, such promise! She sighs and dreams….hmmm.
Describe what's in your travel beauty bag.
Rose water and glycerine, cleansing face wipes, Himalaya nourishing face cream, Boots face scrub, Benefit High Beam, Kajol (Khol), Barry M eyeshadow (sparkly nude and black) Clinique nude lipstick and gloss, Lush Big shampoo and Lush solid conditioner.
The best beauty advice I ever received was. . . .
My Nan always told me Glycerine and Rosewater is the only solution to my dry skin – that and lots of water! Smells pretty too!
Name your favorite perfume or signature scent.
Chic by Carolina Hererra
How do you unwind?
A hot shower followed by a mega mug of steaming chai, writing in my journal, crafting or a sunset walk while listening to inspirational music, especially by Maranathan Singers and Laura Story among many others.
Where is your favorite place to travel?
I travel a fair bit for work, which is why I love Soft Surroundings clothes. They always look fantastic without making you feel like you are stuffed into your clothes. I love exploring and discovering the diversity of creation. Switzerland? Yes, any time. Turkey? TOTALLY!
Do you have a passion project or favorite hobby?
Experimenting with materials, colors, and bits and pieces from around the world and bringing them together to tell a story. I am passionate about storytelling, either through a piece of craft or photo journaling with my husband or scrapbooking. It is always fun telling a story through a piece of jewelry or a designing a tapestry.
Describe the most memorable gift you've ever receive.
My mum and dad once bought me a hand woven bag from a street vendor abroad. It travels all over with me!
How has your style evolved over the years?
Incredibly! From safe and very planned to spontaneous and fun.
One item I never leave the house without is. . . . .
Earrings!
Quote to live by?
"To forgive is to set a prisoner free and to discover the prisoner was you." -Corrie ten Boom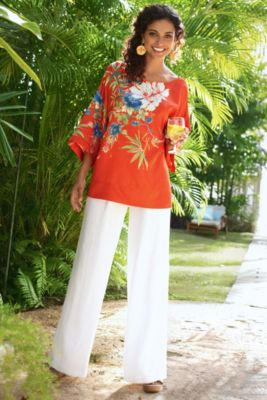 What is your favorite Soft Surroundings product?

Marlene Sweater and my faux-wrap white linen trousers.