"Lipstick, put a little on and your day gets better."
What three words would best describe your style?
Eclectic, Romantic, Flirty
My idea of a perfect day is. . .
Lunch with my daughter and then photographing beautiful San Antonio, Texas.
Who has most inspired your fashion sense?
My Mother. As children my sister and I were taught to always use lotions and creams, the best cosmetics we could afford, and when leaving the house to always be dressed and looking your very best.
What one fashion rule do you always abide by?
Before leaving home look in a full length mirror and remove one piece of jewelry.
The biggest fashion faux pas (mistake) I ever made was. . .
I went to work once and someone told me I had on two different shoes. Good thing I managed a shoe store!
What article of clothing is at the top of your shopping list?
I need some summer crops or shorts to wear with my tunic I purchased.
Describe what's in your travel beauty bag.
I have makeup remover, face creams, concealer, foundation, blush, eyeshadow, brow pencil, mascara, lipstick and Aya Blu fragrance.
The best beauty advice I ever received was. . . .
Always wear lipstick, as color is always your friend.
Name your favorite perfume or signature scent.
Aya Blu
How do you unwind?
Anytime I am feeling blue or need to think I grab my camera and go for a walk.
Where is your favorite place to travel?
I go to Tennessee several times a year. The farms, mountains and people
are wonderful.
Do you have a passion project or favorite hobby?
Photography plays a very big part of my life.
Describe the most memorable gift you've ever receive.
My daughter gave me an all-expense-paid trip with her driving to Vermont, New York and Tennessee, it took us 3 weeks but it was wonderful.
How has your style evolved over the years?
I don't do fads, I stick with Classics. At 61 I actually wear more jewelry and color than I did as a younger woman.
One item I never leave the house without is. . . . .
Lipstick, put a little on and your day gets better.
Quote to live by?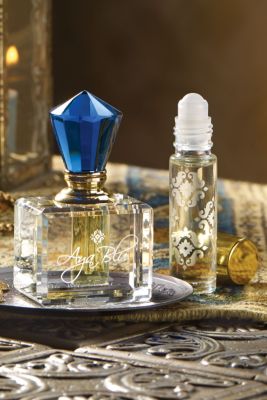 "That which does not kill us makes us stronger." Friedrich Nietzsche
What is your favorite Soft Surroundings product?
I love the Aya Blu Perfume.