There's a certain sway to summer that calls for more casual clothing – relaxed silhouettes, bright colors and prints, and most importantly, breezy fabrics that will keep you comfortable as the temperatures rise.
Summer means more outdoor activities, too. Alfresco lunches, happy hour at your local bistro, beach picnics, barbecues and patio parties – all the more reasons to stay comfy, chic and cool!
Here are six fabrics that play nicely in the warmest season of the year.
1. Cotton
Cotton is the quintessential fabric for casual summer clothing: airy, soft, easy to care for – even hypoallergenic.
The choices of cotton are limitless: cotton gauze and crinkle gauze cotton, for example, keep you cool in the most sweltering of temperatures. Discover delightful crinkle cotton gauze in our Crinkle Gauze Shirt, our gauze pants, or our Crinkled Gauze Skirt.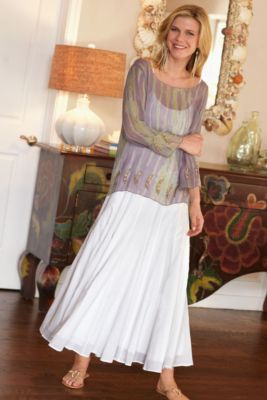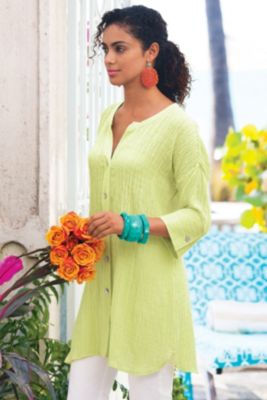 Chambray, denim's summer cousin and seersucker, a lightweight summer suiting material, make great alternatives to heavier denim jeans, tops, jackets and skirts, too.
2. Jersey
What's not to love about jersey knit fabric? Jersey is soft, breathable, supple, comfortable, beautifully draping, effortlessly flattering – and easy to care for. You'll find many of the must-have styles of the season in lightweight jersey knit blends, including maxi dresses, skirts, tunics and tops like our Tristan Top.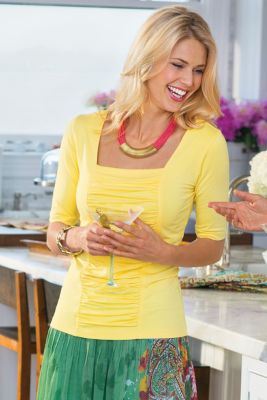 3. Linen
Linen is the fabric equivalent of a refreshing summer drink with its wonderful way of channeling breezes inward to cool your skin. Linen has a porous weave that allows heat to escape away from your body – not to mention a beautiful drape. With its distinct, distinguished texture and delightful softness, the possibilities of summer styles in linen are endless.
Opt for lovely linen blouses in fresh, sun-ripened colors like the Wear it 3 Ways Shirt or a beautifully draping linen skirt like our Bodrum Beach Skirt.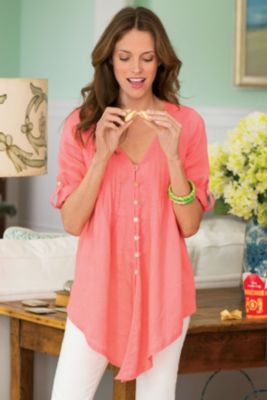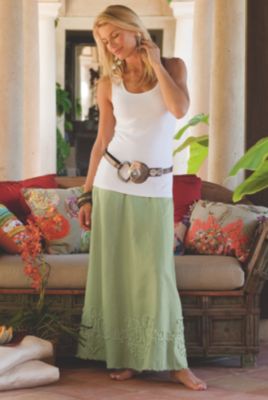 4. Silk
When you want to add a touch of luxury to your summer wardrobe, reach for silk. Lightweight silks are perfect for summer ensembles with a bit of sophistication. Soft and cool to the touch, silk is a natural temperature regulator, helping the body expel heat in warm weather to keep you comfortable. Opt for luxurious flowing silk drawstring pants, a festive silk top like the Tequila Sunrise Top or make a splash in our Santiago Caftan.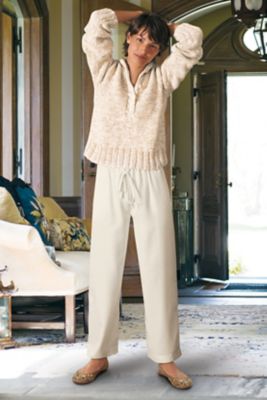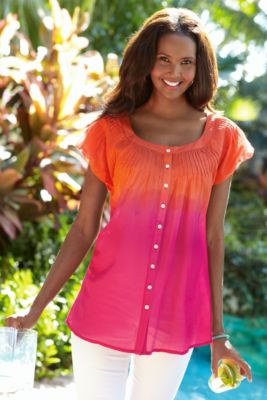 5. Rayon
It's no coincidence that many Hawaiian shirts and sarongs are made from this fabulous, lightweight fabric – it's highly breathable, wicks away perspiration, is cool to the touch, doesn't pill, and is incredibly comfortable and smooth on the skin. Rayon also retains its shape and has anti-wrinkle properties, which makes it a great travel fabric. Capture the essence of a tropical getaway in our Tropicana Dress or top off your outfit with our Fiona Shirt & Cami.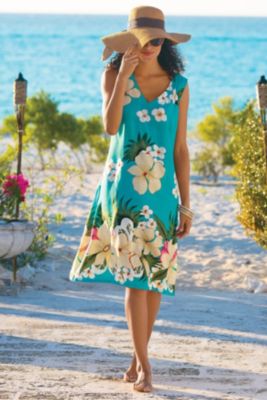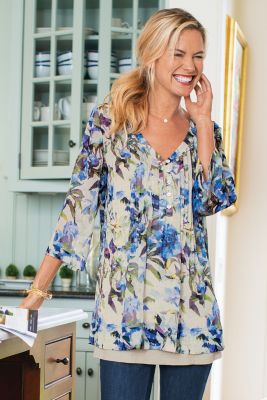 6. Chiffon
Chiffon is a sheer and airy material we love on hot days. It resists wrinkling and drapes like a dream. With its light texture and gossamer feel, it's a popular fabric for blouses, scarves and caftans and is also used as an overlay to give clothing an elegant, floating appearance.
Try out our beautiful Tamara Tunic or make an entrance in our Cote D'Azur Caftan.