"Wear no more than two colors at a time to look elegant."
How would you describe your style?
Soft of course, Grecian, somewhat French, watery. I look best in white, very pale colors, satiny or gauzy colors, some diamonds or pearls.
Who in your life has inspired you most?
Jesus first, my own mother, my grandmothers, who were great stylists (one a dress shop owner, one a model in Miami).
What is your secret indulgence?
Books
Where is your favorite place to travel?
Would like to someday go to Paris and Brittany. Also on my list to see would be Sydney, Australia, Hawaii, and I wouldn't mind seeing London. Have been to Nice on the French Riviera, Salzberg, Rome, Venice, Florence, Athens, and the Island of Aegina where my family came from. I am from Destin, Florida.
What is the best beauty advice you've ever received?
Don't get in the sun.
What one clothing item is worth splurging for?
A fantastic dress…I like long!
What is one fashion rule you always abide by?
Wear no more than two colors at a time to look elegant.
What is one fashion rule that was made to be broken?
In a word, coastal Florida. All rules are completely different from the rest of the country. You can wear high heeled sandals with little socks in the winter!
Do you have a signature scent?
Woman by Herbalife (smells Lemony). I also like Sea Cotton scents.
How do you unwind?
Reading
What are you most proud of?
My beautiful daughters, 22 and 17.
How would you describe the decor of your house?
Don't like it at all…Sports Bar. Husband won't let me change anything, so I have my "areas" that are elegant in soft blues and creams (sigh). We live in Panama City in a wooded area.
What's your passion project or hobby?
Fantasy real estate longings, writing a book, "The Help of Destin, Emma Irby." My first book was "The Impressive Art of Straightening the Home, Creating a Home of Importance Where Greatness Happens."
How has your style evolved over the years?
More refined and traditional, classic but light, delicate, unusual.
What's your beauty routine?
So much! Hypoallergenic French facial products, conditioning my waist-length black hair (having a Kardashian moment), whitening my teeth everyday, frosty blue nail polish, many cosmetics to get a natural, glowy look.Use cellulite creams, artificial tanners and sunblock! Hats in the summer.
Do you have a signature accessory?
Pearl earrings (studs).
Who influenced your personal style?
Dark-haired models, the goddess Athena, Kim Kardashian, my grandmother Betty the model, mermaids, the 80's, Veronica in the comic books, THAT GIRL.
Quote to live by?
"Life is but a dream. All things are possible with God." -John 3:16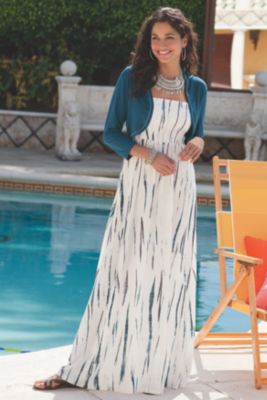 What is your favorite Soft Surroundings product?
I like the Monterey Dress, the Midnight Cruise Dress*, and the Delphine Dress*.
*Editor's note: The Midnight Cruise Dress and the Delphine Dress are no longer available.