"Accessories are the key to making something ordinary special."
What three words would best describe your style?
Eclectic, Bohemian, Unique
My idea of a perfect day is. . .
A ride on my pink bicycle down the Galveston seawall listening to the waves break then heading down to the beach with a great book. Ending the day with a nice glass of Merlot and dinner with a favorite individual.
Who has most inspired your fashion sense?
As a nurse, I wear scrubs a lot, so I learned to only pick the pieces of clothing that I absolutely loved and not to worry about what the "fashion" is. I would have to say that my profession has inspired me the most.
What one fashion rule do you always abide by?
Accessories are the key to making something ordinary special.
The biggest fashion faux pas (mistake) I ever made was. . .
Was not wearing the right color bra under a shirt…learned really quickly about the difference between a white and nude bra.
What article of clothing is at the top of your shopping list?
A dress that will work for me getting married in as well as for other occasions (I am thinking it might be my favorite dress).
Describe what's in your travel beauty bag.
Just the basics – moisturizer tint/sunscreen, blush, nude lipstick, eyeliner, eyebrow powder, nude eye shadow, razor, tweezers, toothbrush.
The best beauty advice I ever received was. . . .
Always moisturize – I remember watching my grandmother always "cream up" and she started me young!
Name your favorite perfume or signature scent.
Nurses don't smell good, smell bad, they stay neutral. I don't really wear scents much, but when I do, it is jasmine.
How do you unwind?
Yoga…watching the waves crash on the beach…sitting on our front porch people watching. Putting on Pandora to the Heart Station and rocking out.
Where is your favorite place to travel?
Anywhere there is a beach!
Do you have a passion project or favorite hobby?
My nursing students are my passion project right now! However, I do love teaching yoga and painting (but not the artistic type, walls and furniture!).
Describe the most memorable gift you've ever receive.
When my family moved overseas when I was 15, a girlfriend gave me a small sterling silver jewelry box and told me to put memories of my life in Texas into it and carry this with me. 40 years later, I still have that jewelry box.
How has your style evolved over the years?
I have come into my own in terms of choosing what looks right on my body and being comfortable in my own skin. That means flowing skirts and pants, unique tops (from embroidery to interesting cuts, to daring fabrics) and coming to terms with the fact that I love black and if I want to wear it everyday I can, it's OK!
One item I never leave the house without is. . . . .
My sunglasses!
Quote to live by?
"For it is in the giving we receive, it is in the pardoning that we are pardoned, and it is in the dying that we are born to eternal life." -St. Francis of Assisi
What is your favorite Soft Surroundings product?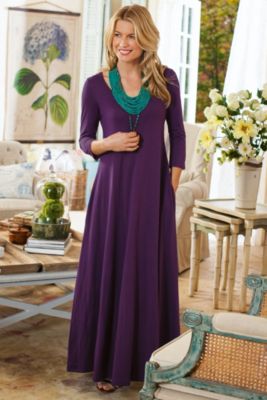 Right now it is a beautiful dress that I got in the fall, russet colored with a long flowing skirt, ballet neckline and sleeves that ended right up above the elbow.  I can dress it up and down and I feel magnificent when I wear it.